Nigerien soldiers missing after ambush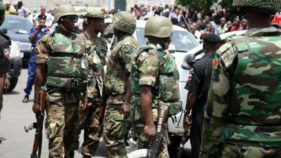 A search was underway Wednesday for several Niger soldiers missing since an ambush by armed men the day before left several of their colleagues injured, security sources said.
A military patrol was ambushed Tuesday afternoon near the village of Tongo Tongo in the western Tillaberi region near the border with Mali. One of the military vehicles had set off an explosive device.
Several troops were injured and evacuated to the capital Niamey, a security source told AFP.
By Wednesday, "several soldiers were still not responding to calls," said another, adding that "search operations are ongoing."
According to the news site Actuniger, a patrol of 52 Niger soldiers stumbled upon a group of heavily-armed men at Baley Beri, near Tongo Tongo. Heavy fighting, which lasted more than two hours, ensued.
Twenty soldiers made it back to their base at Ouallam on three vehicles, while the rest went missing, it said, citing local and security sources.
This is the same region where four American and five Niger soldiers were killed in a jihadist attack in October 2017.
Niger, along with Chad and Cameroon, is suffering the spillover of jihadist group Boko Haram's decade-long uprising to establish a hardline Islamic state in Nigeria's northeast.
The conflict has killed more than 27,000 people and left 1.8 million homeless.
RELATED: President-Buhari to visit Saudi for Umrah