CBN Nirsal Covid-19 Loan Disbursement Rolling (Have you received Alert?)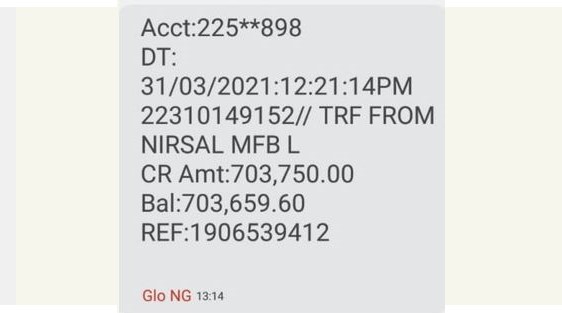 Congratulations to those who have successfully received their CBN Covid-19 loan, remember that it is called "loan" not "grant" so you are expected to pay back.
For those who have you been expecting their loan approval, keep checking your status using the simple method:
1. Open https://covid19.nmfb.com.ng
2. When it loads, select the type of Loan you applied for. Either SME or Household
3. Enter your BVN. Do not worry, the website is the official website of Nirsal Microfinance Bank for the COVID-19 TCF just as https://nyif.nmfb.com.ng is for Nigeria Youth Investment Fund and https://nirsalmfb.caderp.com/Account/Register for AGSMEIS Loan Scheme.
TRENDING NOW on searchngr.com
4. A response will be displayed when you enter your BVN.
(A) If it says your Loan has been approved, it will load your details asking you to accept your Loan offer. Proceed to complete the process and enter bank name and your account number. Avoid mistakes here.
(B) If it says 'Your loan has not been approved, check back later, kindly check back later as they said.
(C) If it however displays "BVN does not exist", do not panic. Just keep checking back from time to time as approval is on going and hope is high.
Patience is the only price one has to pay to get COVID-19 Targeted Credit Facility Loan.