Npower – Humanitarian Minister, Beneficiaries thank Buhari for Social Investment Programmes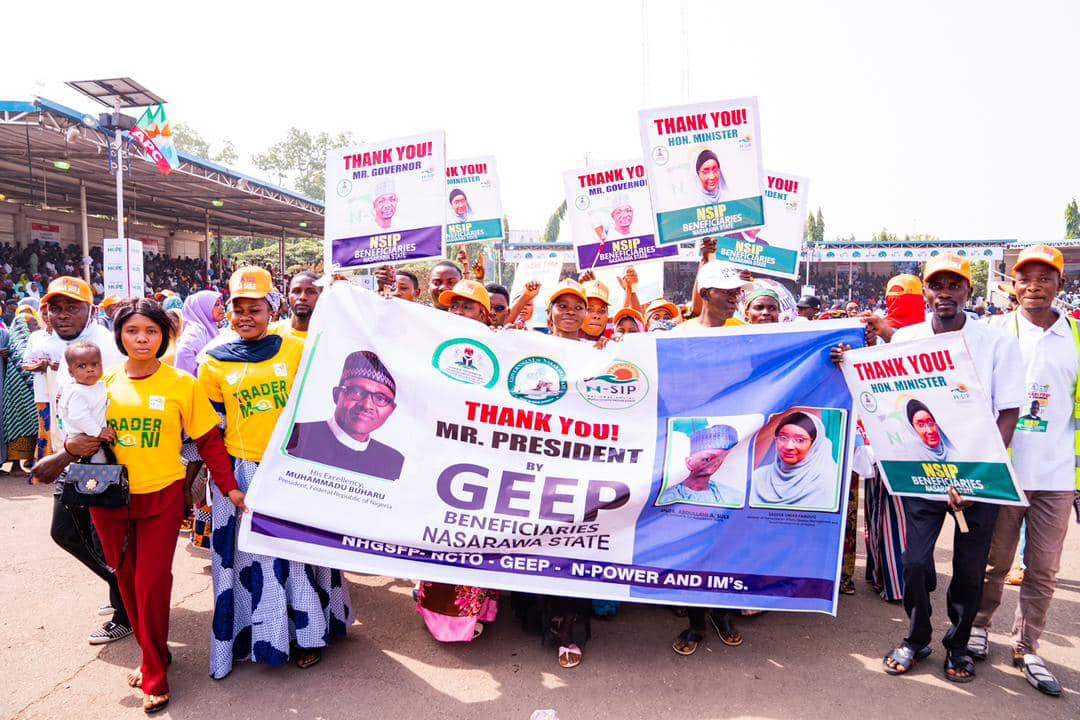 No fewer than 200,000 beneficiaries of the National Social Investment Programme thronged the Lafia Township Square on Saturday to appreciate President Muhammadu Buhari GCFR for lifting most poor and vulnerable persons out of poverty in Nasarawa state.
TRENDING NOW
The Minister of Humanitarian Affairs, Disaster Management and Social Development Sadiya Umar Farouq while also thanking President Muhammadu Buhari GCFR at a rally in Lafia, explained that the total number of beneficiaries of N-Power, Government Enterprise Empowerment Programme, Conditional Cash Transfer and the National Home Grown School Feeding has helped the administration to wade out of recession.
Umar Farouq stated that the National Social Investment Programme is unprecedented in the history of previous Nigerian governments, adding that the programme has helped to alleviate abject poverty in the country.
"Your Excellency, let me state that since independence, no government has done what you have done for the poor people in this country. Without fear of contradiction, Your Excellency, you have done so much for the poor and vulnerable in your primary constituency.
"I stand here on behalf of the poor and vulnerable in this country who are mostly the beneficiaries of our National Social Investment Programmes to appreciate you. If you look to the far left, you will see them waving as they understand you. They are very grateful to you for all the good things you have done for them under your administration.
"Your Excellency, under the National Social Investment Programme, we have four clusters…the N-Power Programme, the Conditional Cash Transfer Programme which gives 2 million households N5,000 monthly. We give N30,000 monthly to our N-Power youths and so far we have 1.5 million of them. We have also been able to target small and medium entrepreneurs and we give them surplus collateral-free and interest-free loans from N50,000 to N300,000 for them to start their businesses.
"Under the National Home Grown School Feeding Programme, we also feed Primary 1 to 3 school pupils on school days. We have close to 10 million of these pupils. Your excellency, these are some of the parents of the pupils we feed daily. These are some of the people who receive N5,000 monthly. These are some of those who receive N30,000 monthly to teach their children and contribute to the GDP and development of this country.
"Your Excellency, it is no wonder that when we went into recession, immediately we came out of recession. It was this money that people used to fend for themselves and members of their families. Your Excellency, this is why we are here to ask for the consolidation of these achievements, to continue these programmes so that Nigerians will benefit from them".