Open Heaven 19th October 2021 RCCG Daily Devotional (A Very Present Help)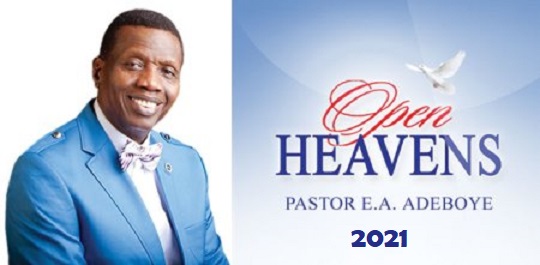 Open Heaven 19th October 2021 is an RCCG Daily devotional manual that is written to ingest into the heart of the Christians. Today's daily devotional is talking about the topic "A Very Present Help"
Open Heaven 19th October 2021 RCCG Daily Devotional (A Very Present Help)
OPEN HEAVENS DAILY DEVOTIONAL
DATE: TUESDAY 19TH OCTOBER 2021.
THEME: A VERY PRESENT HELP.
MEMORISE: And call upon me in the day of trouble: I will deliver thee, and thou shalt glorify me. Psalm 50:15
READ:

1 Samuel 1:9-20

9 So Hannah rose up after they had eaten in Shiloh, and after they had drunk. Now Eli the priest sat upon a seat by a post of the temple of the Lord.

10 And she was in bitterness of soul, and prayed unto the Lord, and wept sore.

11 And she vowed a vow, and said, O Lord of hosts, if thou wilt indeed look on the affliction of thine handmaid, and remember me, and not forget thine handmaid, but wilt give unto thine handmaid a man child, then I will give him unto the Lord all the days of his life, and there shall no razor come upon his head.

12 And it came to pass, as she continued praying before the Lord, that Eli marked her mouth.

13 Now Hannah, she spake in her heart; only her lips moved, but her voice was not heard: therefore Eli thought she had been drunken.

14 And Eli said unto her, How long wilt thou be drunken? put away thy wine from thee.

15 And Hannah answered and said, No, my lord, I am a woman of a sorrowful spirit: I have drunk neither wine nor strong drink, but have poured out my soul before the Lord.

16 Count not thine handmaid for a daughter of Belial: for out of the abundance of my complaint and grief have I spoken hitherto.

17 Then Eli answered and said, Go in peace: and the God of Israel grant thee thy petition that thou hast asked of him.

18 And she said, Let thine handmaid find grace in thy sight. So the woman went her way, and did eat, and her countenance was no more sad.

19 And they rose up in the morning early, and worshipped before the Lord, and returned, and came to their house to Ramah: and Elkanah knew Hannah his wife; and the Lord remembered her.

20 Wherefore it came to pass, when the time was come about after Hannah had conceived, that she bare a son, and called his name Samuel, saying, Because I have asked him of the Lord.

Open Heaven 19th October 2021 RCCG Daily Devotional (A Very Present Help)
MESSAGE:
When a child of God is confronted with a challenge in life, all he or she needs to do is call out to the Lord in prayer. When Jesus was travelling in a ship with His disciples, a great storm blew up and the disciples were afraid. The Bible says "And his disciples came to him, and awoke him, saying, Lord, save us: we perish." (Matthew 8:25).
The good thing about calling upon God in the time of trouble is that He is ever ready to rise to the occasion. The Bible further says "And he saith unto them, Why are ye fearful, O ye of little faith? Then he arose, and rebuked the winds and the sea; and there was a great calm." (Matthew 8:26).
Some Christians pretend that all is well, even in the presence of the Lord, whereas they may be having serious spiritual, health, material and even financial issues. In the case of the disciples however, they cried to the Lord for help; they told Him exactly how they felt about the storm. Jesus Christ responded to their cry and stilled the storm. I pray that as you cry to the Lord today, He will not just hear but also respond in Jesus' name. The storm of your life will miraculously cease today, in Jesus' name.
In our Bible reading of today, we can see what one must do when he or she needs a miracle. Hannah needed a miracle but from year to year she had been going to Shiloh until that wonderful year when she realized she needed to do what she had not been doing before- fervent and heart-felt prayer! A times when I see how some of my children pray during the various programmes at the Camp, I rejoice because the tempo of their prayers signifies that they are in need of urgent miracles.
God has promised never to forsake his children so, whenever you are faced with any challenge, call on Him and He will answer you. Psalm 46:1 says:
"God is our refuge and strength, a very present help in trouble."
I am always excited to join my faith with those of my children-in-the-Lord when I see them praying desperately. My prayer is that as you cry to God today, your miracle will reach you sooner than you expect, in Jesus' name.
Open Heaven 19th October 2021 RCCG Daily Devotional (A Very Present Help)
ACTION POINT:
Pray as you have never done before. Today, is your day for answered prayers, in the mighty name of Jesus.
BIBLE IN ONE YEAR: 1 Chronicles 11-15.
AUTHOR: PASTOR E. A. ADEBOYE
HYMN 28: WHAT A FRIEND WE HAVE IN JESUS.
What a friend we have in Jesus,
All our sins and griefs to bear!
What a privilege to carry
Everything to God in prayer!
Oh, what peace we often forfeit,
Oh, what needless pain we bear,
All because we do not carry
Everything to God in prayer!
Have we trials and temptations?
Is there trouble anywhere?
We should never be discouraged—
Take it to the Lord in prayer.
Can we find a friend so faithful,
Who will all our sorrows share?
Jesus knows our every weakness;
Take it to the Lord in prayer.
Are we weak and heavy-laden,
Cumbered with a load of care?
Precious Savior, still our refuge—
Take it to the Lord in prayer.
Do thy friends despise, forsake thee?
Take it to the Lord in prayer!
In His arms He'll take and shield thee,
Thou wilt find a solace there.
Blessed Savior, Thou hast promised
Thou wilt all our burdens bear;
May we ever, Lord, be bringing
All to Thee in earnest prayer.
Soon in glory bright, unclouded,
There will be no need for prayer—
Rapture, praise, and endless worship
Will be our sweet portion there.