Open Heaven 6th March 2021 RCCG Daily Devotional (Be Content I)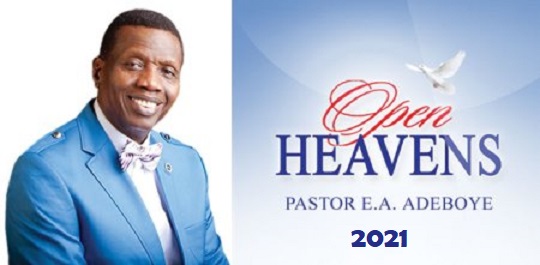 Open Heaven 6th March 2021 is an RCCG Daily devotional manual that is written to ingest into the heart of the Christians. Today's daily devotional is talking about the topic "Be Content I".
OPEN HEAVENS DAILY DEVOTIONAL
DATE: SATURDAY 6TH MARCH 2021.
THEME: BE CONTENT I.
Open Heaven 6th March 2021 RCCG Daily Devotional (Be Content I)
MEMORISE:Let your conversation be without covetousness; and be content with such things as ye have: for he hath said, I will never leave thee, nor forsake thee. Hebrews 13:5
READ:

1 Timothy 6:6-10

6 But godliness with contentment is great gain.

7 For we brought nothing into this world, and it is certain we can carry nothing out.

8 And having food and raiment let us be therewith content.

9 But they that will be rich fall into temptation and a snare, and into many foolish and hurtful lusts, which drown men in destruction and perdition.

10 For the love of money is the root of all evil: which while some coveted after, they have erred from the faith, and pierced themselves through with many sorrows.
Open Heaven 6th March 2021 RCCG Daily Devotional (Be Content I)
MESSAGE:
Contentment is one major trait that you need in order to live a good life and finish the heavenly race successfully. The treasures of this world are a major tool in the hands of the devil to make Christians fall. Even though the devil knew that Jesus Christ was well aware of the mansions waiting for Him in heaven, he still tried to tempt Him with the glories of this world (Luke 4:5-7). That is the same way he tempts Christians even today. He will show you your neighbour's new car and tell you that if you just steal a little money or cheat a client, then you can also buy that car. Your response should be that of Jesus in Luke4:8:"And Jesus answered and said unto him, Get thee behind me, Satan: for it is written, Thou shalt worship the Lord thy God, and him only shalt thou serve."
The only people who will fall into this trap of the devil are those who are not content with what they have. It is fine to want more but be grateful to God for the little that you have now as you ask Him for more. Don't put your attention on what you don't have, rather, put it on what you do have. Don't put your attention on what God has not given you, put it on what He has given you.
I have come to discover that when a person puts his attention so much on riches, they may eventually come, but at the expense of the fellow's stand with God. David said in Psalm 37:4 that your delight should not be in the things of this world but in the Lord. Only then will He give you all that you desire.
Psalm 37:4. Delight thyself also in the Lord ; and he shall give thee the desires of thine heart.
What is it that delights you? Is it having more money, buying new cars, travelling on vacation or is it the Lord? If your delight is in worldly things, the devil will present them to you in return for some compromises of your faith. Don't compromise to get rich, it is not worth it. Matthew 16:26 says if you gain the entire world and lose your soul, you are at a loss. Proverbs 16 :8 says:"Better is a little with righteousness than great revenues without right."
God wants you to prosper (3 John 2), so you don't have to compromise your faith to be rich. It is better to be poor knowing that you are on your way to heaven than to be rich but on your way to helI.
Open Heaven 6th March 2021 RCCG Daily Devotional (Be Content I)
KEY POINT:When you are content with what God has given you and are grateful to Him, He will give you more.
BIBLE IN ONE YEAR: Acts 17-19
AUTHOR: PASTOR E. A. ADEBOYE
HYMN 26: TO GOD BE THE GLORY GREAT THINGS HE HATH DONE.
1. To God be the glory, great things He hath done,So loved He the world that He gave us His Son,Who yielded His life an atonement for sin,And opened the life gate that all may go in.
o Refrain:Praise the Lord, praise the Lord, let the earth hear His voice!Praise the Lord, praise the Lord, let the people rejoice!Oh, come to the Father, through Jesus the Son,And give Him the glory, great things He hath done.
2. Oh, perfect redemption, the purchase of blood,To every believer the promise of God;The vilest offender who truly believes,That moment from Jesus a pardon receives.
3. Great things He hath taught us, great things He hath done,And great our rejoicing through Jesus the Son;But purer, and higher, and greater will beOur wonder, our transport, when Jesus we see.