Open Heaven 7th March 2021 RCCG Daily Devotional (Be Content II)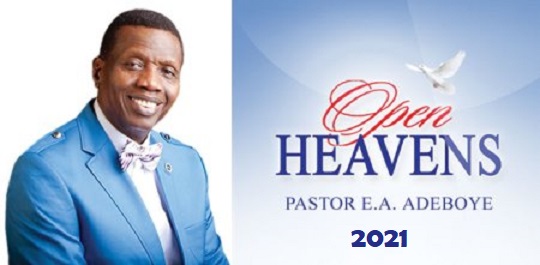 Open Heaven 7th March 2021 is an RCCG Daily devotional manual that is written to ingest into the heart of the Christians. Today's daily devotional is talking about the topic "Be Content II".
OPEN HEAVENS DAILY DEVOTIONALDATE:
SUNDAY 7TH MARCH 2021.
THEME: BE CONTENT II.
Open Heaven 7th March 2021 RCCG Daily Devotional (Be Content II)
MEMORISE: And he said unto them, Take heed, and beware of covetousness: for a man's life consisteth not in the abundance of the things which he possesseth. Luke 12:15
READ:

Psalms 37:1-9.

1 Fret not thyself because of evildoers, neither be thou envious against the workers of iniquity.

2 For they shall soon be cut down like the grass, and wither as the green herb.

3 Trust in the Lord, and do good; so shalt thou dwell in the land, and verily thou shalt be fed.

4 Delight thyself also in the Lord: and he shall give thee the desires of thine heart.

5 Commit thy way unto the Lord; trust also in him; and he shall bring it to pass.

6 And he shall bring forth thy righteousness as the light, and thy judgment as the noonday.

7 Rest in the Lord, and wait patiently for him: fret not thyself because of him who prospereth in his way, because of the man who bringeth wicked devices to pass.

8 Cease from anger, and forsake wrath: fret not thyself in any wise to do evil.

9 For evildoers shall be cut off: but those that wait upon the Lord, they shall inherit the earth.
Open Heaven 7th March 2021 RCCG Daily Devotional (Be Content II)
MESSAGE:
When you complain about what God has not given you, you are being ungrateful to Him for what He has done. Think about it: if He has given you money to rent a one-room apartment, thank Him for that one room and He will give you more. The more you complain and grumble, the further God draws away from you because He detests the company of complainers. When the Israelites complained about a lack of meat despite Gods provision of manna, Numbers 11:1 says:"And when the people complained, it displeased the LORD: and the LORD heard it; and his anger was kindled; and the fire of the LORD burnt among them, and consumed them that were in the uttermost parts of the camp."
Imagine giving your child a phone and instead of appreciating your gift, he or she complains about it not being internet-enabled then smashes It into pieces. You would certainly be angry. Now, imagine if the child appreciated the phone, then came after a few weeks to say "Daddy/Mummy, I like this phone, but if you don't mind, I would prefer one that can use the internet". You would most likely assure the child that you will buy it for him or her soon and then strive to fulfil your promise. Many Christians are short-changing themselves by always complaining. If you appreciate what God has given to you, He will give you more, but if you grumble, then you will get Him angry.
Trust God, He wants the best for you and He will give it to you when the time is right.Things may not be the way you want now, but trust God and appreciate what He has given to you.1 Timothy 6:6 says:"But godliness with contentment is great gain."
Ambition is good but even as you strive for greater heights, learn to be content with where you are and what you have. He is bringing you to that desired place very soon in Jesus' name. God bless you.
Open Heaven 7th March 2021 RCCG Daily Devotional (Be Content II)
PRAYER POINT:Father, help me to trust in Your love and to appreciate all that You have done for me.
BIBLE IN ONE YEAR: Exodus 20-22AUTHOR:
PASTOR E. A. ADEBOYE
HYMN 6: GREAT IS THY FAITHFULNESS.
1. Great is Thy faithfulness, O God my Father;There is no shadow of turning with Thee;Thou changest not, Thy compassions, they fail not;As Thou hast been Thou forever wilt be.
o Refrain:Great is Thy faithfulness!Great is Thy faithfulness!Morning by morning new mercies I see:All I have needed Thy hand hath provided—Great is Thy faithfulness, Lord, unto me!
2. Summer and winter and springtime and harvest,Sun, moon, and stars in their courses aboveJoin with all nature in manifold witnessTo Thy great faithfulness, mercy, and love.
3. Pardon for sin and a peace that endureth,Thine own dear presence to cheer and to guide,Strength for today and bright hope for tomorrow—Blessings all mine, with ten thousand beside!