We Are Probing Okorocha Over N8billion Bailout Fund – EFCC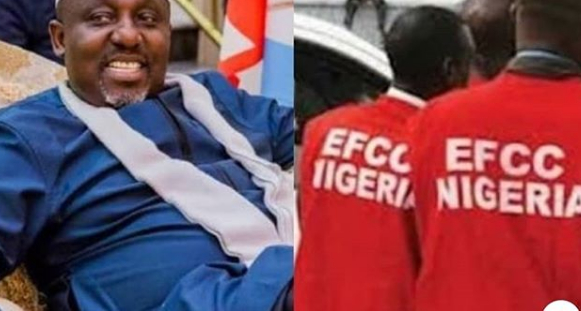 The troubles of the outgoing administration of Rochas Okorocha in Imo State are far from over as the Economic and Financial Crimes Commission (EFCC), yesterday, said that it is investigating a case of money laundering against it during the last governorship election in the state.
EFCC's zonal head for South East, Usman Imam during a briefing disclosed how their operatives, acting on tip-offs, blocked accounts belonging to the state government in the build-up to the election.
He spoke while highlighting the activities of the zone in the first quarter of the year, Imam said their timely intervention saved the state over N5bn that would have been deployed for vote buying by the Okorocha's administration.
He revealed that about N8bn from the Paris Club Refund bailout meant for payment of workers' salaries was warehoused by the government, only to begin frittering it on the eve of the election for phoney reasons, prompting the anti-graft agency to block the accounts.
"About N7.9bn is what had been blocked, although with pressure, subsequently, about N2.5bn was released for salaries. On the whole, we have over N5bn of those funds blocked; we are following up to see what actually happened.
Honestly, what we discovered was that within two days, N700m was withdrawn in cash; N200m on the first day and N500m on the second day and all these monies were disbursed in a manner that was honestly unpalatable. Distribution to school teachers; I don't know, schools that you were not funding and you wake up on the eve of the election and withdrew N500m cash and start distributing N1000 each or so to teachers. Whatever that means, I don't know.
"When we came in, we were able to save about seventy something millions of the funds that we discovered were not disbursed, we also blocked it. People are still answering questions as to who asked them to move those monies, monies that were blocked at the banks."The sad story about this was that these monies were the intervention funds; the bailout funds that the Federal Government released to states to pay salaries when they were having problems paying salaries. They didn't utilize that money to pay the salaries; they warehoused it and kept it until the election period, they started attempting to draw down the money. Whatever happens, we have saved over N5bn of that money, as we talk, two weeks to handover. Probably, the next government would have that money to use it better. There are a lot of other general investigations going on in Imo right now," he stated.
He said the directive by EFCC Acting Chairman, Ibrahim Magu for proper monitoring to forestall money laundering during the election actually paid off.
He also said that the zone had in the course of investigations from January till date, recovered the sum of N102, 322, 630; and USD6, 450.
In addition, he stated that investigations were on to ascertain whether the 30 different brands of cars they seized were actually proceeds of crime or not.
The zonal head who said they received a total of 557 petitions in the period under review noted that 127 of them were approved and under investigation, while 230 were rejected on the grounds of being civil in nature, falling under other agencies' mandates or already in court.
He announced that the commission has recorded 28 convictions this year as against 14 in 2018, adding that 45 of the cases were fully investigated and suspects charged to various courts in the region.
However, the EFCC is contending with 16 civil suits emanating from the zone, he added.
Edo results: Obaseki winning, godfatherism shamed – Omokri mocks Tinubu, Oshiomhole
Reno Omokri, a former aide to ex-President Goodluck Jonathan has mocked the National Leader of the All Progressives Congress, APC, Asiwaju Bola Tinubu and Adams Oshiomhole as results of Edo governorship election trickle in.
Governor Godwin Obaseki, who contested Saturday's governorship election on the platform of the Peoples Democratic Party (PDP), is in an early lead as results come in.
Pastor Osagie Ize-Iyamu seems to be behind Obaseki despite support from Oshiomhole and Tinubu.
Omokri, reacting to the results announced so far by INEC, said the forces of godfatherism are being shamed in Edo.
According to the former presidential aide, results from Edo governorship election proves that Edo is different from Lagos State.
NEWS:  Edo decides: Soldiers have taken over Owan West collation centre – PDP cries out
Omokri on his Twitter handle wrote: "me The @OfficialPDPNig is coasting to an easy victory in Edo, going by official @INECNigeria results so far released.
"The forces of godfatherism are being shamed. Oshiomhole and Bola @AsiwajuTinubu now know that Edo is definitely not Lagos!"
Edo 2020: PDP accuses APC of mounting pressure on INEC to alter results
The Peoples Democratic Party (PDP) has accused the All Progressives Congress (APC) of mounting pressure on the Independent National Electoral Commission (INEC) to alter the results of the governorship election in various parts of Edo State in favour of the APC.
In a statement, Kola Ologbondiyan, National Publicity Secretary of the party, noted: "We have been informed that the INEC Chairman has come under intense pressure from the APC to allow the replacement of results declared in the riverine areas of Edo State in order to jerk up figures for the APC.
"The PDP has also observed that INEC's virtual portal is increasingly becoming unstable. We also have information on ploys being undertaken to replace results in Fugar and other adjoining local governments, all in Edo North."
The party appealed to INEC Chairman not to "fall for this pressure in the interest of the unity and cohesion of our country.
NEWS:  Edo Decides: Voters resist, descend on ballot box snatcher [VIDEO]
"We have the results as already declared in the various polling units and we urge INEC to confine itself to these results already declared by its officials at the polling units.
"We invite Nigerians to closely monitor results being declared on the INEC virtual portal to ensure the wishes of the people of Edo State are not altered overnight."
EPL: Micah Richards predict position Man Utd will finish this season
Former Manchester City player, Micah Richards, has predicted the position Manchester United will finish this season in the English top-flight league.
Man United finished in the third position on the Premier League table last season.
Ole Gunnar Solskjaer's side lost 3-1 against Crystal Palace on Saturday in their first Premier League fixture.
Richards now believes the Red Devils cannot compete for the Premier League title this season, adding that the Old Trafford club will be far behind Liverpool and Man City on the Premier League table.
"I do not think United have strengthened enough at present to challenge for the title [this] season," Richards told Sky Sports before Man United's clash with Crystal Palace.
"I think the arrival of Donny van de Beek improves them, but when you look at Manchester City and Liverpool, their cohesion is infinitely better than United's still.
NEWS:  EPL: Solskjaer told players to sign after 3-1 defeat to Crystal Palace
"When you get new players, it does not mean you are going to be a great team overnight.
"When you look at what Jurgen Klopp has done… he arrived at Liverpool five years ago, and it took him time to reach the heights.
"I think they will be massively improved and they have got more strength-in-depth, but I still think they will be far off Liverpool and Manchester City."