16 UTME Candidates Get Scholarships For their Excellent Performance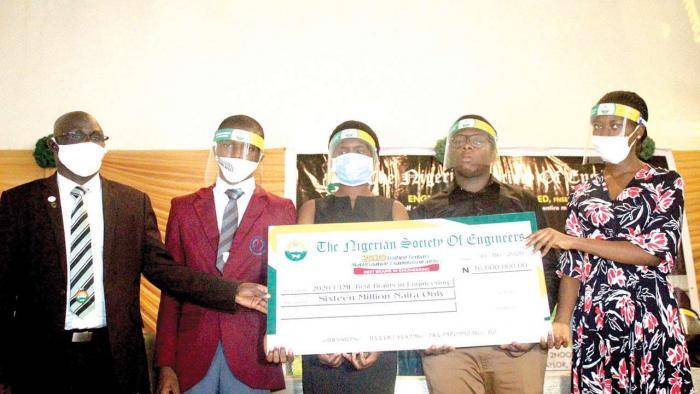 The Nigerian Society of Engineers (NSE) has awarded scholarships to 16 candidates who took the 2020 UTME for their excellent performance in the 2020 Unified Tertiary Matriculation Examination (UTME).
The beneficiaries, comprising males and females, have indicated interest to study mechanical, industrial production, electrical, computer as well as civil engineering in Nigerian universities. The best three of the 16 candidates, Maduafokwa Egoagwuagwa Agnes, Nwobi Okwuchuwu David, and Ojuba Mezisasha Shalom, scored 369, 363 and 359 in the examination.
Each of the candidates will get N200, 000 per year for the next five years if they gained admission into any tertiary institution this year. Each of them will also be given a brand new laptop while the best candidate, Maduafokwa got an extra new laptop and a tablet donated by the President, Association of Professional Women Engineers of Nigeria, Mrs. Funmilola Ojelade, and other sponsors.
Addressing the gathering, which attracted parents, top practicing engineers in Nigeria and across the world as well as officials of the Joint Admission and Matriculation Board (JAMB), the President of NSE, Babagana Mohammed, explained that the gesture was in line with the institution's strategic mission and objective of getting more Nigerians to study and practice engineering, and to grow the profession in all its ramifications.
Exited Npower Volunteers Will Be Paid As Soon As FEC Approve Budget – NSIP Spoke Person
We Will Pay Disengaged Npower Volunteers June, July outstanding stipends (backlog) As Soon As FEC Approve Budget – NSIP Spoke Person (We have no reason holding your stipends, there is no fund available at the moment)
According to the statement made by NSIP spoke-person, the Minister of Humanitarian Affairs, which means that there is no money at hand to pay disengaged volunteers, volunteers have to wait, pending when the Federal Executive Council Approve the fund presented to her as regards to stipends.
The spoke man as assured all disengaged volunteers, not to worry over the matter, as soon as FEC approves the budget presented to them, payment will be initiated.
"We have no reason holding your stipends, there is no fund available at the moment, as soon as the FEC approves the Budget we gave them, we will settle all affected volunteers" Illia added.
When asked when will FEC approves the budget, she tactically dodged the questions, declined to tell the audience of the time, funds will be approved FEC sat virtually this week, but no money release to this effect, we hope when next week comes, something will be said about it at FEC meeting.
Download WAEC 2020 Timetable PDF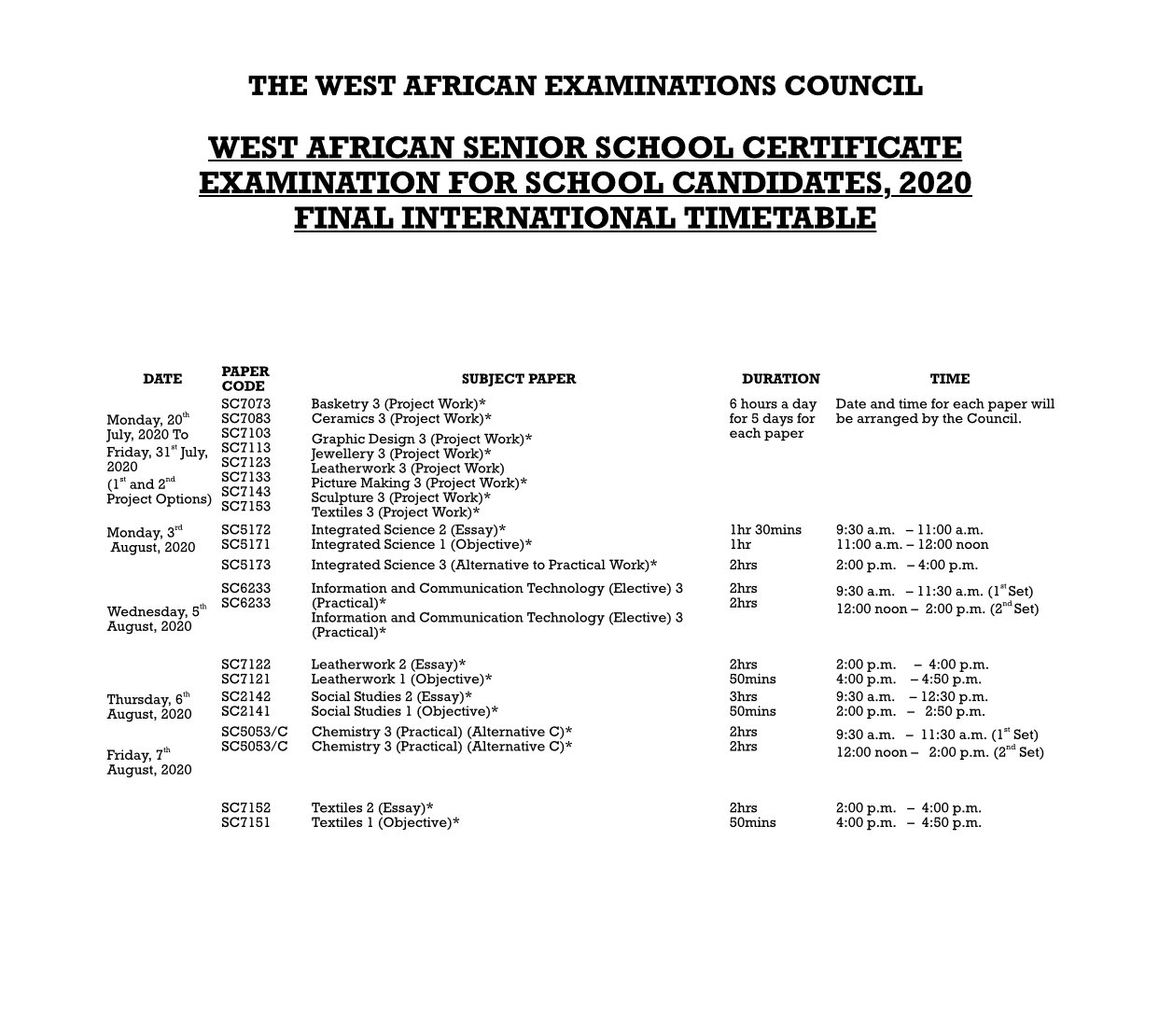 Download WAEC 2020 Timetable PDF: We are pleased to inform the general public especially those are hoping to seat for the 2020 Senior Secondary School Certificate Examination that the Board has officially released WAEC 2020 Timetable and is available for download.
Final International Timetable for the Conduct of WASSCE for School Candidates, 2020
The West African Examinations Council has released the timetable for the 2020 West African Senior School Certificate Examination.
It is will be noted that the Federal Government has earlier announced that graduating student will resume August 4 and WASSCE will begin August 17, 2020, through September 2020.
According to the timetable published by WAEC, the examination will begin on Monday, August 17, 2020, and end on Saturday, September 2020.
Kindly find below and download WAEC timetable 2020 PDF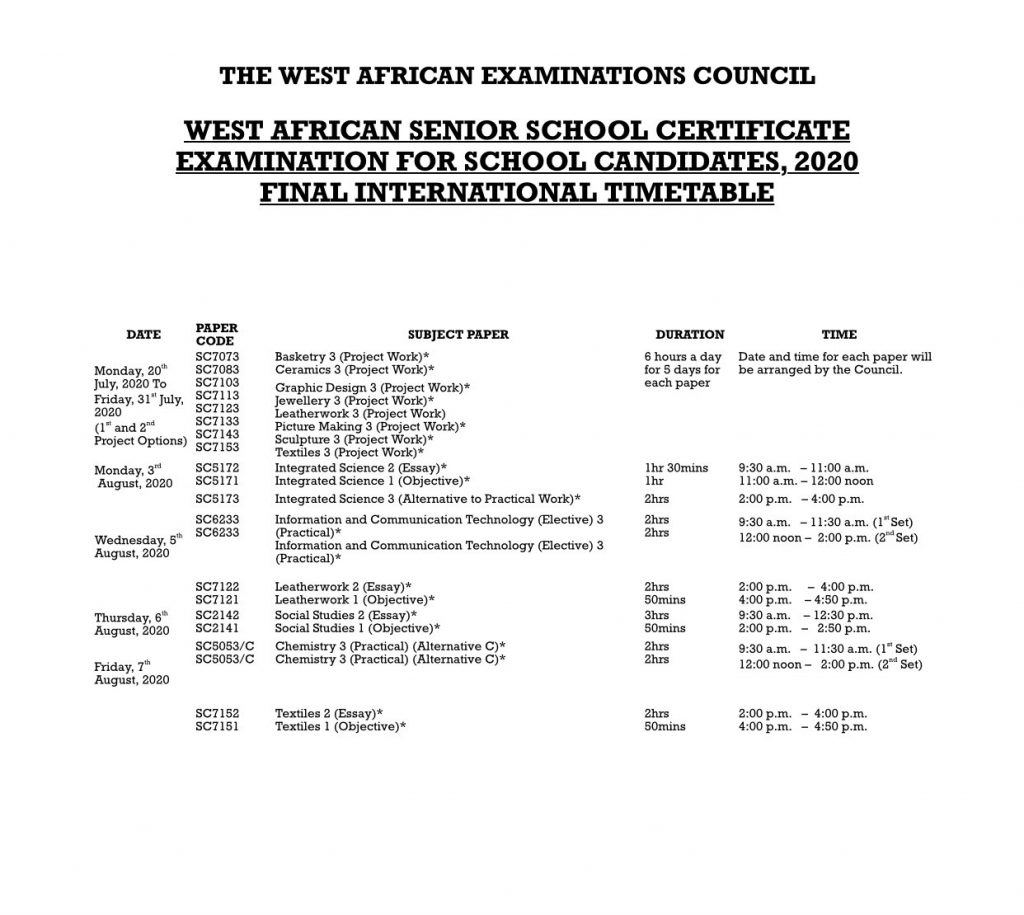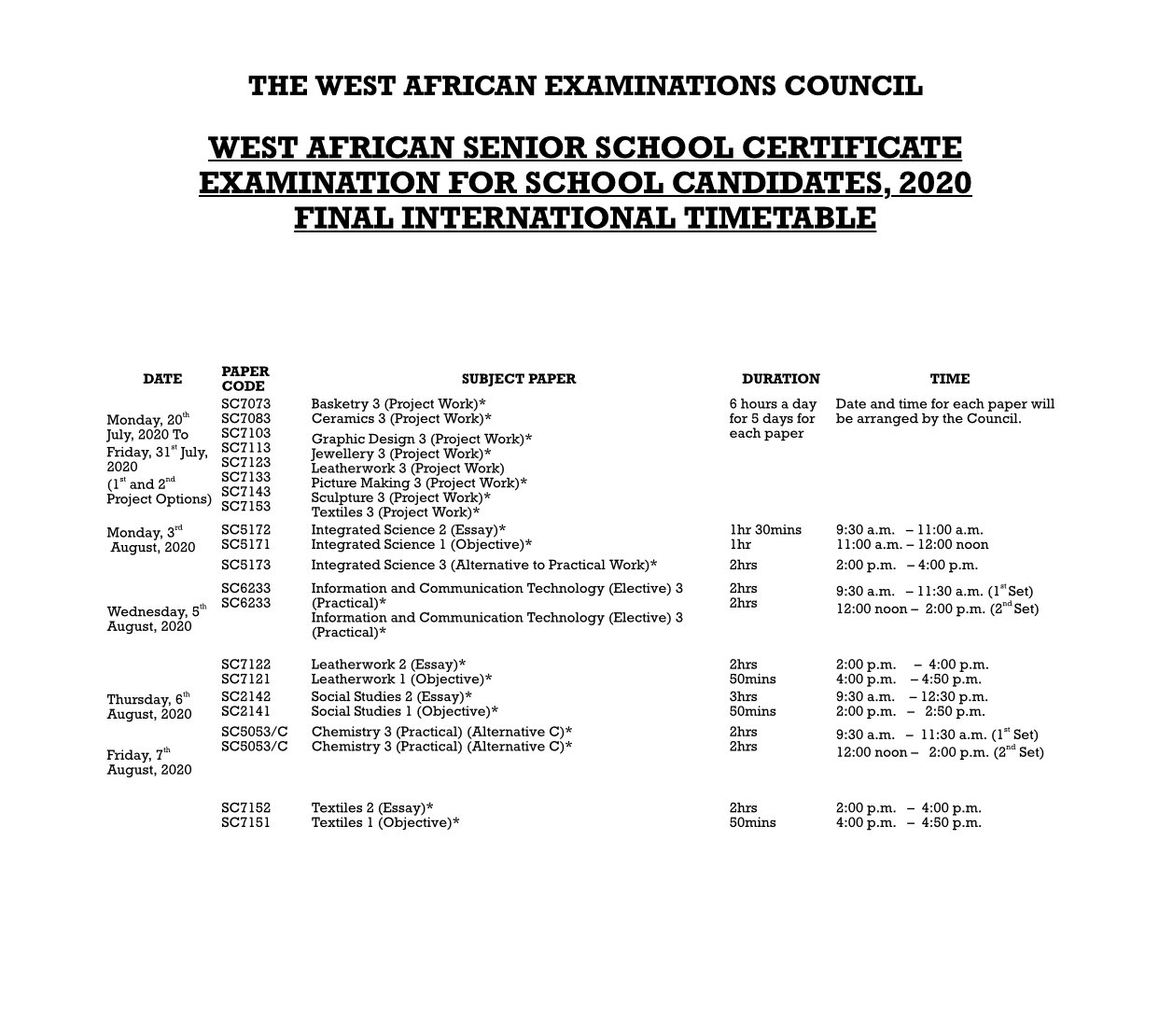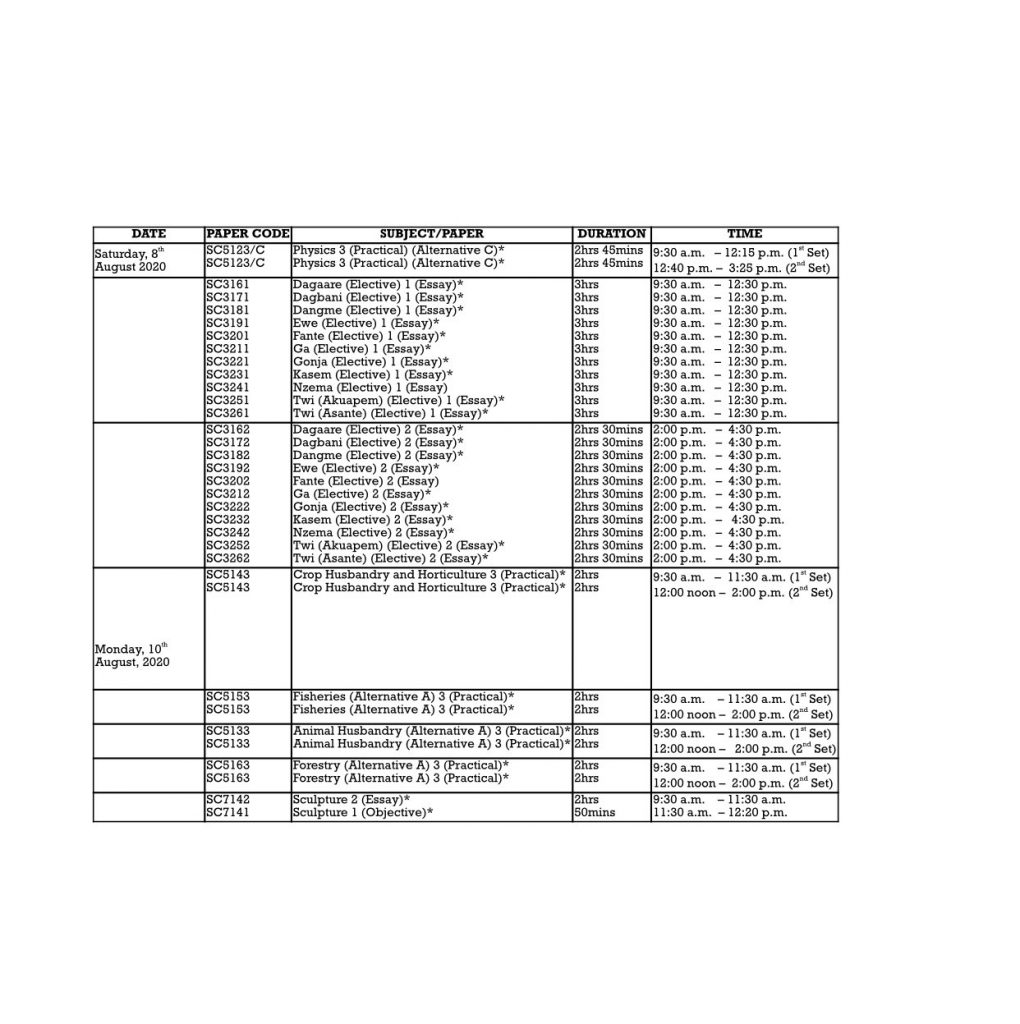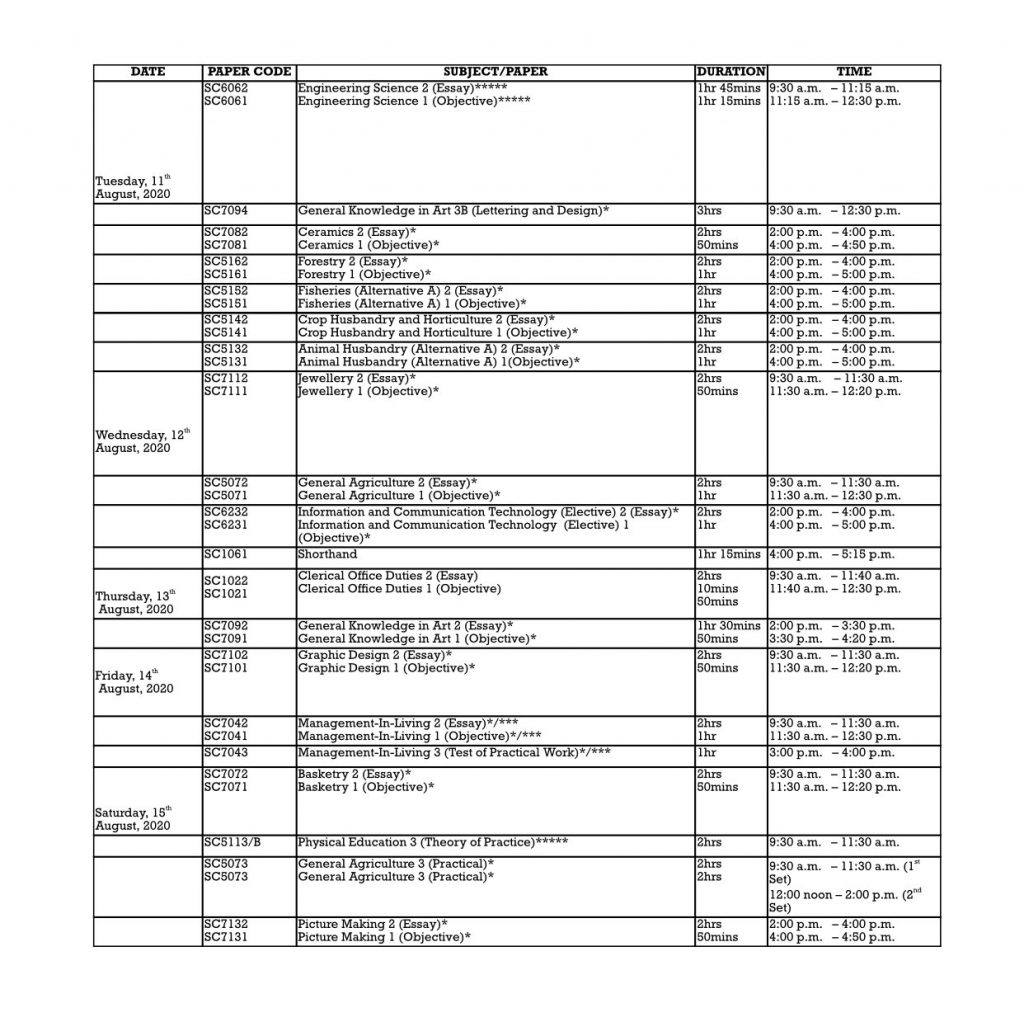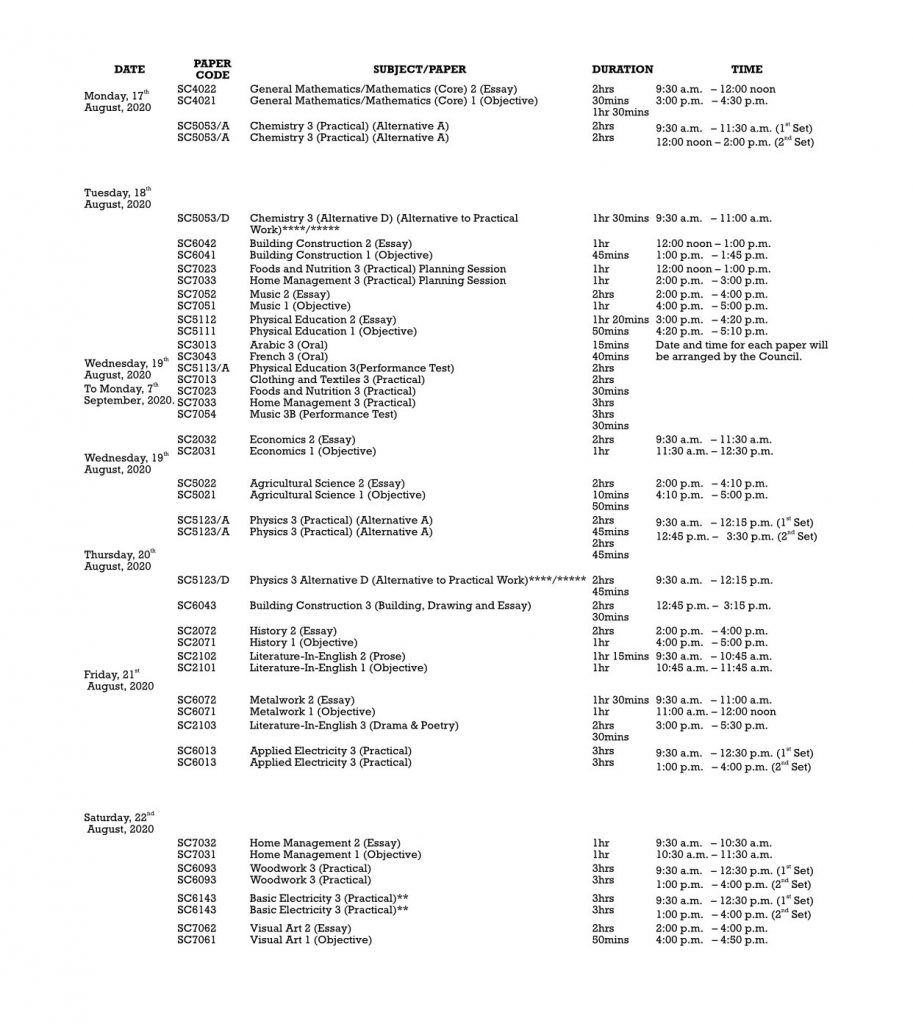 WAEC 2020 Timetable PDF: The board advise candidates to obey the rules and regulations guiding the conduct of the examination by avoiding all forms of exam malpractice and obeying all COVID-19 guidelines that WAEC has put in place.
UK School Employes a 10-year-old Nigerian Girl as Coding Instructor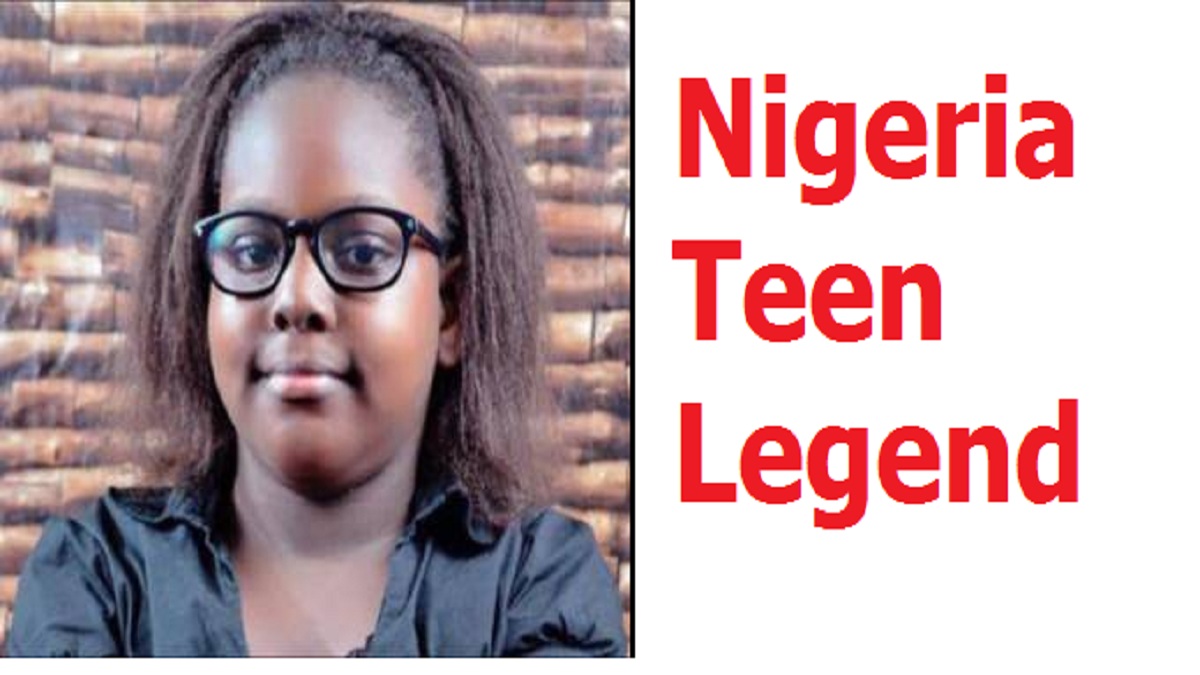 A 10-year-old Nigerian girl identified as Emmanuella Mayaki, has gone viral after she was recently hired by a school in the United Kingdom to be a coding instructor.
Emmanuella was selected by the school management for the job because of her extraordinary skill and knowledge for coding. She received the job at the Southfield Primary School in Coventry, England, as the after school coding club teacher and will be responsible for teaching other kids her age about the basics of coding including HTML and CSS.
According to Emmanuella, her passion for technology started at age 7 and by age 9, she had already obtained a diploma with a speciality in multiple software programs including Advanced PowerPoint, Desktop Publishing, and Advanced Excel. She also has an Academy App on Google Play store for coding and graphics.
Let give a thumbs up for her!