Application for the 2022 Douvas Memorial Scholarship 2022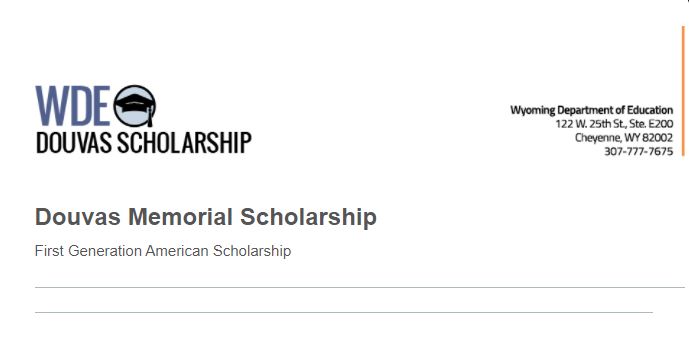 Applications are now being accepted for the Douvas Memorial Scholarship, a first-generation
American scholarship was established by Peter George Douvas, an immigrant from Greece. One $500 scholarship will be awarded to a first-generation American youth who demonstrates the need and motivation to attend college.
TRENDING NOW
Recipient Requirements:
Be a first-generation American; someone who was born in the U.S., but whose parents were
not born in the U.S.
Be a high school senior or between the ages of 18 and 22.
Be a resident of Wyoming.
Use the scholarship at one of the state's seven community colleges, or the University of
Wyoming.
Use the scholarship to partially meet education expenses during the school year that follows
the spring application.
The 2022 application must be submitted by student applicants no later than April 30, 2022. Student applicant status will be shared by email in late May. A $500 check will be mailed to the college of the recipient's choice in August 2022 to be used for education expenses.
Apply for the Douvas Scholarship here.
Scholarship deadline: SCHOLARSHIP OPEN FROM FEBRUARY 1-APRIL 30, 2022