Apply for Commonwealth Secretariat Recruitment, London, United Kingdom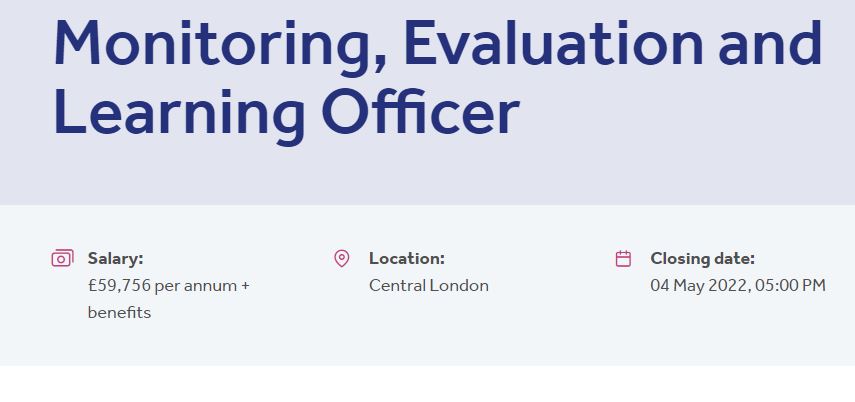 The Ministry of Foreign Affairs of Nigeria wishes to inform qualified Nigerians of a job vacancy for the post of Monitoring, Evaluation and Learning Officer at the Commonwealth Secretariat, London, United Kingdom.
The Evaluation and Learning Section of SPPD leads in designing, developing and implementing evaluation policies, practices and plans for the organization, building capacities in monitoring and evaluations (M&E) and facilitating the growth of the knowledge and evidence base that will drive the demand and use of monitoring and evaluation information for improved decision making, organisational performance and learning.
As a member of the Evaluation and Learning Team, you will play a major role in the delivery of the evaluation and learning plans of the Secretariat. You will be responsible to ensure high-quality evaluation outputs are developed and communicated; enabling strong supportive links between the monitoring, evaluation and programme planning and management; and supporting the Senior Management Committee and programme managers in engaging with evaluation processes and addressing evaluation recommendations.
RECENT POSTS
In collaboration with programme Directorates, the post holder will also ensure that learning opportunities and means are established and maintained, anchoring the engagements around M&E information and evidence on evaluation findings, organisational learning and innovative research. This includes the planning and delivery of learning events, capacity building workshops and reviews; supporting the development of Secretariat performance and results in measurement frameworks and promoting an evaluative and learning culture within the Secretariat.
To be considered, you will need to have a post-graduate degree in Development Studies, Development Economics, Public Policy, Strategy, Management, International Relations, Public Administration or related social sciences or research disciplines.
You will also need to have at least seven years' international experience in managing programmes and projects; planning and results-based management in an intergovernmental or development context; and at least five years' experience in managing and conducting evaluations of development interventions.
You will need to have experience in ensuring quality in implementing monitoring actions and evaluations; practical experience in planning, implementing and disseminating results of monitoring and evaluation studies. You will need to be capable of producing evaluation synthesis and coordinating systematic and peer reviews; and have experience in designing, planning and coordinating learning events.
Please refer to the Job Description for a detailed list of responsibilities and experience required for the role.
The Commonwealth is a voluntary association of 54 member governments and provides guidance on policy making, technical assistance and advisory services to Commonwealth member countries. We support governments to help achieve sustainable, inclusive and equitable development.
To join us, you must be a citizen of a Commonwealth country.
Please apply by submitting a CV and cover letter. Covering letters should be structured to address the key criteria required in the person specification, giving clear examples.
Interested persons should note that the closing date for submission of the application is Wednesday, 4th May 2022 at 5:oo pm.
For more information on the vacancy and application processes, please visit the Commonwealth Secretariat website: https://thecommonwealth.org/jobs
Signed
Francisca K. Omayuli (Mrs) Spokesperson Ministry of Foreign Affairs