Apply for SMEDAN Entrepreneurship Program 2023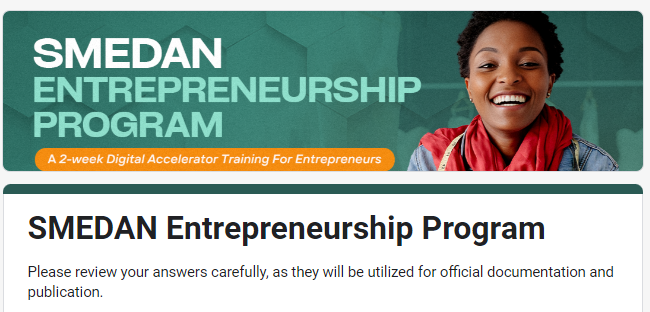 SMEDAN wants Nigerians who are interested to join their Entrepreneurship Program in 2023. You can apply by using the application link below.
SMEDAN is a government agency in Nigeria that helps small and medium-sized businesses grow. They were created in 2003 with the goal of developing the MSME sector of the Nigerian economy. The agency aims to be a convenient place for MSME development, and they also work with micro-enterprises, as they are the foundation of SMEs.
TRENDING NOW
Duration
The Program is a 2-week Digital Accelerator For Entrepreneurs to Gain access to practical knowledge & opportunities to grow their businesses.
Benefits Include:
1. Access digital tools to optimize your business operations.
2. Gain access to Funding opportunities to expand your business
3. Secure a sit to showcase your business at the forthcoming SME trade fair powered by SMEDAN
4. Access SMEDAN's network of opportunities to get support for your business growth.
Application closing date: June 28th 2023
How to apply:
Interested Nigerians should apply via https://Bit.ly/SMEDANLab