Apply for Work Experience Program (WEP) 2021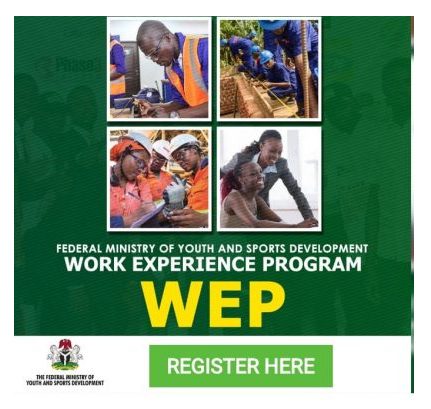 The Work Experience Program is one of the series of economic sustainability projects being implemented as an initiative of the Federal Ministry of Youths and Sports Development in Nigeria.
 Click here to apply for this programme
Recently a clinical study and analysis of various surveys on the Nigerian youth, with respect to employability skills, was carried out alongside series of one-to-one interactions. In reaching a conclusion, it was established that one of the challenges of unemployment is the acute absence of practical workplace skills and experience.
TRENDING NOW
Benefits to Successful Interns
1) Provides you with an opportunity to relate career courses with workplace scenarios.
2) Gives you valuable insight into the diversity of employees in the workplace.
3) Prepares you for the demands and expectations of the fast-evolving world of work.
4) Improves your soft skills such as emotional intelligence, teamwork, people skills confidence, and problem-solving.
5) Provides you with appropriate knowledge, skills, and attitudes concerning both paid and unpaid work.
Eligibility
To be eligible for this training programme, candidates must:
a) be a Nigerian citizen between the ages of 18 to 35 years
b) possess a valid government-issued means of identification
c) willing to undertake some travel if selected and the physical training location is not in their state of residence
d) be a graduate of a tertiary institution (BSc/HND)
How to apply
Interested and qualified Applicants should:
Click the above link to apply online