Apply for BEEI Recruitment 2021 for South Africans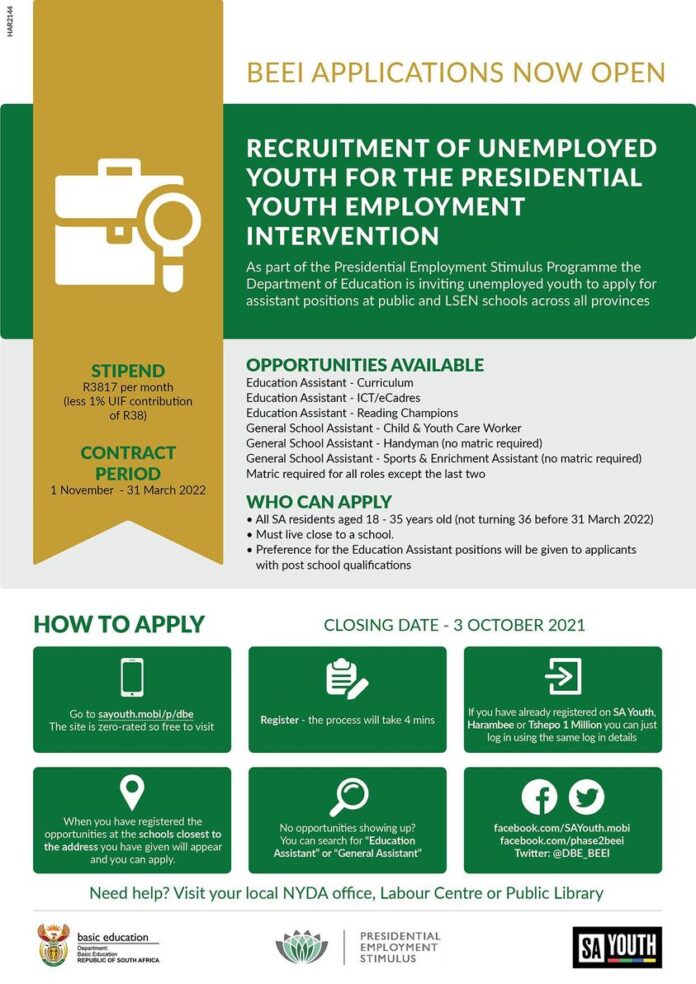 BEEI Recruitment 2021 has commenced, interested unemployed South Africans can apply to get recruited into the agency. Those who wish to apply for the BEEI Jobs should take a look at the following guidelines.
TRENDING NOW
As part of the Presidential Employment Stimulus Programme, the Department of Education is inviting unemployed youth to apply for assistant positions at public and LSEN schools across all provinces.
Categories of Jobs available for the BEEI Recruitment 2021
Education Assistant – Curriculum
Education Assistant – ICT/eCadres
Education Assistant – Reading Champions
General School Assistant – Child & Youth Care Worker
General School Assistant – Handyman (no matric required)
General School Assistant – Sports & Enrichment Assistant (no matric required)
Matric required for all roles except the last two
Eligible Applicants for the BEEI Application 2021
All SA residents aged 18 – 35 years old (not turning 36 before 31 March 2022)
Must live close to a school.
Preference for the Education Assistant positions will be given to applicants with post-school qualifications.
HOW TO APPLY for BEEI Application 2021 for Unemployed South Africans
Visit the official website via sayouth.mobi/p/dbe 
Complete the application form, this takes less than five minutes.
If you have already registered on SA Youth, Harambee, or Tshepo 1 Million, proceed with your login credentials.
If you can't find any opportunity, You can search for "Education Assistant" or "General Assistant"
Amount to be paid to qualified Applicants
R3817 per month (less 1% UIF contribution of R38)
Contract Duration
1 November – 31 March 2022
Deadline – 3 OCTOBER 2021