How to Apply for Council for Life Grant Application Form 2021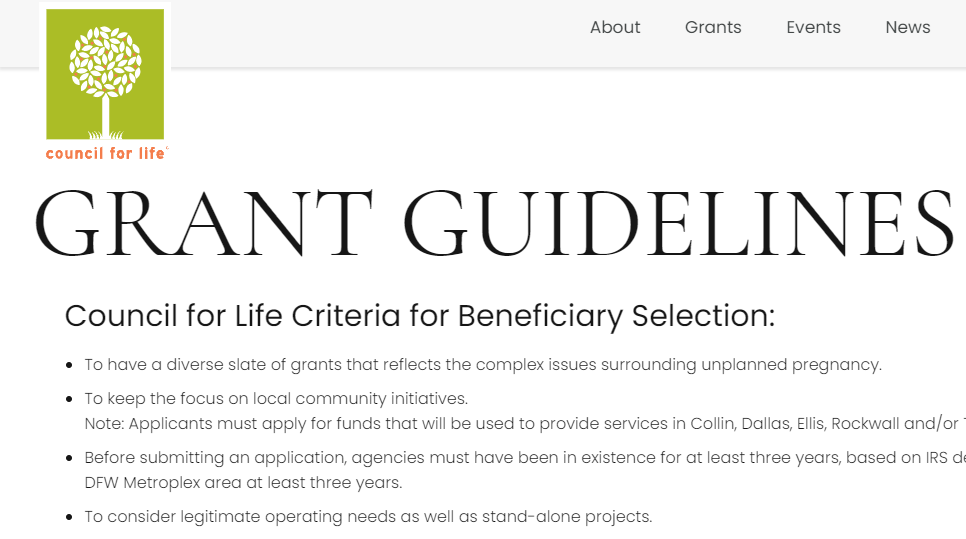 Council for Life Grant Application for 2021 – Council for Life has been committed to raising significant funds for non-profit agencies that share the same mission of honouring the sanctity of life. To date, Council for Life has given over $9 million to more than 55 local agencies.
TRENDING NOW
The 2021 Council for Life grant application has commenced, and interested individuals, agencies should take a look at the guidelines and requirements below to apply.
Council for Life Grant Application Criteria for Beneficiary Selection:
To have a diverse slate of grants that reflects the complex issues surrounding unplanned pregnancy.
To keep the focus on local community initiatives.
Note: Applicants must apply for funds that will be used to provide services in Collin, Dallas, Ellis, Rockwall and/or Tarrant counties.
Before submitting an application, agencies must have been in existence for at least three years, based on IRS determination date, or have served the DFW Metroplex area at least three years.
To consider legitimate operating needs as well as stand-alone projects.
To select beneficiaries that are in line with our mission to empower women, men and youth to make life-affirming choices and are motivated by Christ-like love and compassion.
Not to fund the same project or need more than two consecutive years.
To prevent agencies from becoming financially dependent on Council for Life. We encourage agencies to develop new community relationships made possible during the grant year; however, we ask that you do not directly solicit new donors (via an underwriting letter) from our membership while in the same year you are selected to receive a grant.
How Council for Life GrantBeneficiaries will be selected
Council for Life grant application Beneficiaries are selected by a committee based on the merit of the project and its potential impact on the community. The grant process includes an application, a financial assessment from a CPA, and a site visit. Over two days, the merits of each project are thoughtfully and prayerfully weighed and beneficiaries are chosen through anonymous ballots ranking the requests.
Typically 15 – 19 beneficiaries are selected. During the grant year, beneficiaries submit interim and final reports to ensure the integrity of the grant and all expenditures. Council for Life is proud to have helped increase the efficacy and professionalism of its grantees over the past 20 years.
2022 GRANT CYCLE TIMELINE
All 2022 Grant Applications and Required Exhibits Due | Between Thursday, September 30, to Wednesday, December 1, 2021, by 5:00 pm*
Thursday, September 30, 2021
Beneficiary Fall Forum | 9:30 AM – 1:00 PM | Park Cities Presbyterian Church | 4124 Oak Lawn Avenue, Dallas, Texas 75219 (with Virtual option from 10:00 AM to Noon)
January/February 2022
Research and possible site visits
March 2022
CFL Board votes/Agencies notified
October/November 2022
CFL Luncheon
December 2022
Checks distributed
*All 2022 Council for Life Grant Applications and required Exhibits must be submitted electronically via Council for Life's grant application portal from Thursday, September 30, to Wednesday, December 1, 2021, at 5:00 pm.
Note: Fall Forum is MANDATORY – Thursday, September 30, 2021
Agencies that are considering applying for a Council for Life 2022 Grant are required to have a representative (staff member or board member) participate (either in person or virtually) in the Beneficiary Fall Forum on Thursday, September 30, 2021.
The only official website to apply is https://councilforlife.org/grants/apply/