Apply for Ongoing CBN Creative Industry Loan for 2022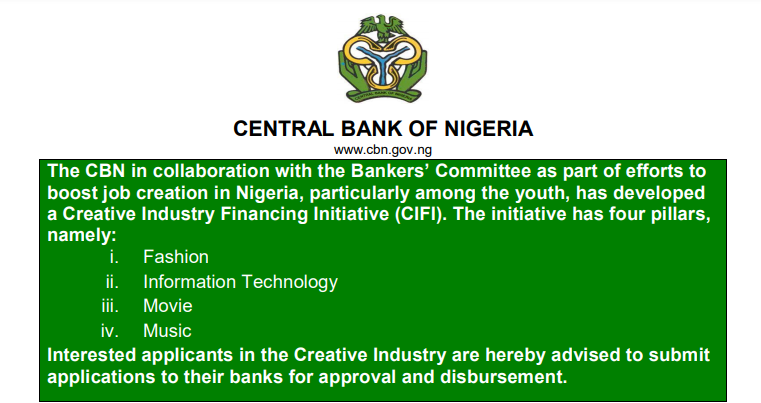 CBN Creative Industry Loan 2022: As part of its Creative Industry Financing Initiative (CIFI), the CBN will disburse loans at a 9% interest rate through Nigerian banks to creative businesses which satisfy the eligibility requirements. The CIFI loan has a flexible repayment period spanning 3 to 10 years.
Learn more on the official website via https://www.cbn.gov.ng
TRENDING NOW on searchngr.com
The Central Bank of Nigeria (CBN) introduced loans to support creative industries in Nigeria.
It's in the industry that we have art and craft and other creative works!
Eligibility for CBN Creative Industry Loan 2022
To qualify for the CIFI loan, applicants should operate businesses in any of these areas: Fashion, Information Technology, Movie Production, Movie Distribution, and Music distribution. Loans are available for Software Engineering students as well.
Businesses must be duly registered with the Corporate Affairs Commission, possess a valid Bank Verification Number BVN, and prepare a comprehensive business plan.
It is accurately observed that funds like the loan is not readily available for this creative-oriented category of individuals. Financing your business as a creative individual is not really encouraging because financial institutions rarely give loans to them but prefer to give loans to develop organizations or steady income receiving individuals.
Amount of Loan you can Access for Business
You can get a loan of up to:
N3 million for Software Engineering Student
N30 million for Movie Production business
N500 million for Movie Distribution business
Cover your rental/service fees for Fashion and Information
Technology business
Cover your training fees, equipment fees, and rental/service fees for the Music business
How to apply for CBN Creative Industry Loan 2021
The only way to apply for CBN Creative Loan is through your local bank. Walk up to your designated bank and request that you want to apply for CBN Creative Industry Loan. Your bank will discuss your request and plan for your loan disbursement.
Period for the repayment of the loan
For Software Engineering Student Loan, it is a maximum of three years
For Movie Production and Distribution, it is a maximum of ten years
For Fashion, Information Technology (IT) and Music, it is a maximum of ten years
For more information, please visit: www.cbn.gov.ng
Deadline: There is currently no deadline for this application.