Covenant University Post UTME Form 2019 and How to Apply for Admission Screening Exercise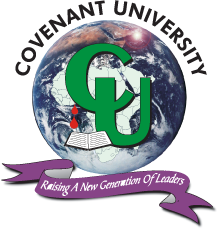 The general public is hereby informed that Covenant University is now selling admission forms into its various undergraduate programmes for the 2019-2020 academic session. Covenant University post UTME / Covenant University undergraduate admission form is now available for purchase online.
The Undergraduate Form fee is now N7,000 only (seven thousand naira only). It captures the form at N5,000 (five thousand naira) and the screening fee at N2,000 (two thousand naira). Transaction charges apply, N900 (Nine Hundred Naira Only) via card payment and N600 (Six Hundred Naira Only) for bank / over the counter transaction. 
Eligible Candidates for Covenant University Post UTME.
How to Apply for Covenant University Admission Screening.
Visit: admportal.covenantuniversity.edu.ng/undergraduate/ to start your application.
Submission of the electronic application form will activate your admission consideration process. All electronic documents submitted in support of the application should be submitted according to the guidelines outlined below.
NON-REFUNDABLE APPLICATION FEE:

The application form fee is non-refundable.
The application form can be saved with a view of completion at a later date.
An application cannot be submitted if the application fee is not paid at the end of the form.
The application form fee for the 2019-2020 academic year is N5,000 (Five Thousand Naira Only).
Post-UTME Screening fee is N2,000 (Two thousand Naira only).
Transaction charges apply, N900 (Nine Hundred Naira Only) via card payment and N600 (Six Hundred Naira Only) for bank / over the counter transaction.
STATEMENT OF PURPOSE:

A statement of purpose (not more than 500-word count) should be prepared and submitted online with the application. The personal statement should address your intellectual interests, academic and professional objectives, visions, and goals for life. Please review the academic programmes for details listed by specific undergraduate programmes.
UPLOADING OF CREDENTIALS:

The application would only be considered completed if you upload the following credentials:
Birth Certificate
Scanned 2018 JAMB result with your clearly visible passport photograph
WAEC or NECO Result (if available)
Letter of Sponsorship by Parents
Please note that all the documents must be in PDF and not more than 100kb
PRINCIPAL AND PASTORAL REFERENCE LETTERS:

Two official recommendations are required for your application to be completed. These recommendations must be from persons in positions to appraise your potential for undergraduate study at Covenant University. These persons should include the following: Spiritual Leader, Principal or any teacher from your school. Covenant University requires the use of the online recommendation system, which utilizes a secure system that will:
Automatically email your recommendation providers with instructions for online submission of the recommendation.
Allow applicants to track recommendations received or not received and follow up with recommenders who still need to submit their appraisals.
Expedite the processing of the recommendations, which will be included in the online application once submitted.
Automatically notify you when recommendations have been received.
CUSAS SCREENING AND BOOKING:

There will be a Computer-based Post-UTME screening, which will take place at Covenant University, Canaan Land, Km. 10 Idiroko Road, Ota, Ogun State. The screening schedule would be accessible via the Screening Booking. Candidates will be notified via text messages. All candidates are required to pay the sum of Seven Thousand Naira Only (N7,000.00) which entails Five Thousand Naira (N5,000.00) for the form and Two Thousand Naira (N2,000.00) for post-UTME screening. The fee can be paid with CUSanwo
KINDLY LOOK ON SEARCHNGR.COM FOR PAST POST UTME QUESTION AND ANSER
Covenant University has introduced the latest indigenous innovation for online payment of fees called 'CU SANWO'. This platform will be used for processing the card payment for the 2018/2019 academic session.
RELATED: JAMB Cut of Mark 2019 Released (Poly, Uni & College)