Current Jobs at Sonia Foods Industries Limited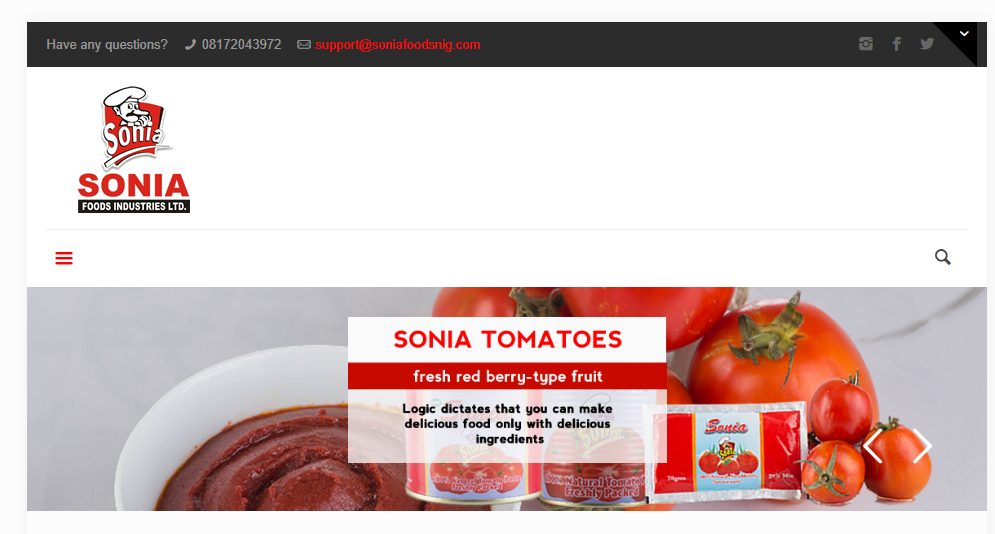 Sonia Foods Nigeria Limited – We are one of Nigeria's leading tomato paste manufacturers. The company is a recognized market leader in tomato paste production and other range of products like; Seasoning Cube, baking powder, Margarine Yeast, Dough Improver, Preservative, Vitasoy Milk Drink, Vitamax Cereal Drink. Our Tomato Paste is making major improvements to its Shagamu, Ogun State factory plant as part of an ongoing plan to meet the growing demand for its products and maximize efficiency.
TRENDING NOW
We are recruiting to fill the position below:
Job Title: Machine Operator
Location: Shagamu, Ogun
Employment Type: Full-time
Slot: 15 Openings
Job Brief
Machine Operators install, maintain, and operate machinery. They must have a strong understanding of the machines they work with. In-depth training may be required to prepare a Machine Operator for their daily duties.
Machine Operators may work with mechanical or computer-operated equipment. They must be technically-inclined and be able to properly utilize tools and machinery. Since problems with machinery may arise, Machine Operators must be able to analyze situations and find solutions.
Candidates for this position should be detail-oriented and willing to learn. Machine Operators should be able to follow instructions, work with others, and help ensure that all safety regulations are followed.
Responsibilities
Assist in the installation, maintenance, and repair of machinery.
Operate tools to aid in the manufacturing process.
Perform periodic checks on equipment and solve problems as detected.
Work with others to ensure that equipment is in proper working order.
Observe and follow company safety rules and regulations.
Requirements
Minimum HND
Combination of additional education and experience
Aptitude for problem-solving, computers, and mechanics
Attention to detail
Ability to work and communicate well with others
Proficiency with hand tools
Willing to perform repetitive tasks for extended periods
Above 5 years working experience
Job Title: Mechanical Engineer
Location: Shagamu, Ogun
Employment Type: Full-time
Slot: 4 Openings
Job Brief
We are looking for a skilled Mechanical Engineer to join our team. You will be responsible for working on all stages of our production cycles, from research and design to manufacturing, installation, and evaluation.
The successful candidates should be highly creative individuals with the ability to develop innovative solutions to problems. The top candidate will also have the ability to communicate their technical ideas clearly, both visually and verbally.
Responsibilities
Designing, manufacturing, and installing components that fulfill requirements.
Analyzing problems or deficiencies and developing solutions to resolve them.
Conducting experiments and evaluations to improve and innovate product designs.
Creating plans and designs using CAD technology.
Estimating budgets and time scopes for each project.
Writing technical documentation for machine operators.
Ensuring that products meet compliance regulations.
Collaborating with project managers and other engineers in our team.
Requirements
Bachelor's Degree in Mechanical Engineering
Masters is added advantage.
Minimum of 8 years experience
Licensed as a Professional Engineer.
Experience working in the Mechanical Engineering field.
Superior computer skills, with solid experience in CAD, CAM, and Matlab/LabView programs.
Ability to run simulations and analyze test data.
Ability to write clear and comprehensive technical documentation.
Highly analytical mind, with exceptional problem-solving skills and attention to detail.
Deadline: 10th April, 2021.
How to Apply
Interested and qualified candidates should forward their CV to: careers@blumenigeria.com Use the Job Title as the subject of the email.