EQUIP Empowerment Grant 2022 Registration Begins (25,000 Each)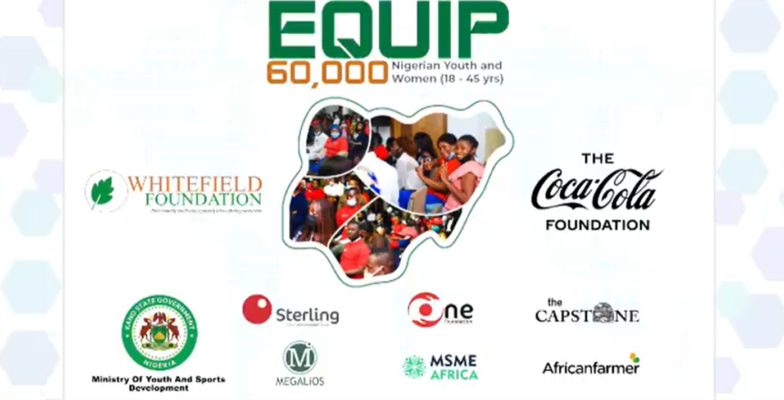 EQUIP is a free and supportive program for Nigerian Youths (men and women) who are unemployed, unemployed, financially disadvantaged, or simply want to get an education, stay and start working.
E.Q.U.I.P stands for E-educate, Q-quench, U-upgrade, I-illuminate, and P-pivot.
TRENDING NOW
This is an initiative of the Whitefield Foundation's Empowerment Program, funded by the Coca-Cola Foundation to empower youth and women between the ages of 18 and 45.
⁃ Other partners include the Capstone Resource Center, Sterling One Foundation, Sterling Bank, Megalios IT Foundation, MSMEAfrica, an African farmer, and Kano State Department of Youth and Sports Development.
The initiative aims to provide 60,000 participants with unskilled work and entrepreneurial skills to lift them out of poverty, gain economic strength and earn an income to meet their personal and immediate family needs.
Benefits
GOLD Category – 200,000 each
SILVER Category – 100,000 each
BRONZE CATEGORY – 25,000 each.
In Total, 1,000 participants will receive financial grant support.
When Is 'EQUIP' Starting?
Registration for EQUIP starts is now open
Online training will commence as soon as 60,000 qualified participants are selected.
It's first come first served. Register Early.
How Long Is The Training?
This training is in Four (3) stages. The First Stage will be 100% online and will last for Two -Three (2-3) weeks.
The Second Stage (also virtual) will be interactive practical sessions that will last for Two (2)Weeks.
The Third Stage will be an Intensive Bootcamp for top performers.
The Last stage is business pitching for the grant award.
Participants are allowed a maximum period of 5 weeks to attempt and finish all the training.
Completing the First stage earns you a certificate.
Successfully completing the first two stages offers you the opportunity to compete to win grants.
How to Apply for EQUIP Empowerment Program 2022 Registration
APPLY HERE for EQUIP Empowerment Program: https://www.equip.whitefieldfoundation.ng/register