FCT ERC Registration Form 2021 Begins (Posting) – How to Register at fcterconline.site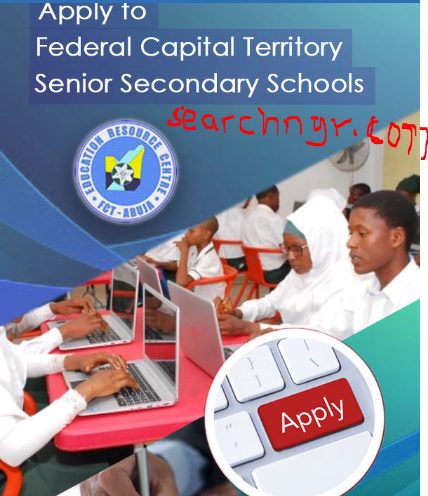 FCT ERC Registration Form 2021 Begins – How to Register at fcterconline.site: We are pleased to inform you that the federal capital territory is currently accepting students into its senior secondary school education.
TRENDING NOW on searchngr.com
Below are the instructions for online application of Joining Instructions, Admission/Transfer and Gifted forms. We, however, advise the Applicants to read the instructions very carefull before applying.
Step-by-step on how to Register for FCT ERC Posting (fcterconline.site)
Obtain online application scratch card from the respective accredited premises;
Visit http://www.fcterconline.site, to apply online;
On the home page, go to the form application category (e.g. ADMISSION/TRANSFER), then click Apply Now;
Enter the scratch card details in the space provided (these include; PIN and Serial Number) to complete the application form;
HOW DO I CHECK MY ADMISSION STATUS ONLINE?
 Login to the admission portal.
 Go to 'My Admission' link.
HOW DO I PRINT MY ADMISSION SLIP fcterconline.site?
 Once the applicant is granted admission.
 Below the onscreen congratulatory message is a bold 'Print Admission Slip' link; click to print the slip.
WILL MY ADMISSION SLIP APPEARED IN BLACK AND WHITE OR COLORED fcterconline.site?
 Depending on the printer used, if the printer is black and white; the admission slip will be as such and if the printer used is colour; the admission slip will be the same.
 You may, however, tell the cafe attendant how (back or colour) you want it.
HOW DO I GET SUPPORT WHEN I ENCOUNTER CHALLENGES APPLYING FOR ADMISSION ONLINE?
 We have 24/7 professional portal support, by opening a support ticket through the 'My Support' link. Don't worry, we will be there to respond asap.
 However, we have phone support through which you can put a call through.
 You can also, contact the system administrator at the school premises.
 We will be glad to assist you always.
fcterconline.site – FCT Education Resource Centre (ERC) started as the Education Service section of the Federal Capital Development Authority (FCDA) in 1982 when the then Education Department was to send a representative to the Board of West African Examinations Council (WAEC). The ERC is essentially an academic service provider to schools.
It provides these services in the area of curriculum development, examinations, admission and placement, library services, instructional materials, teachers' professional development and research in its mandate areas. Its functions include the enhancements of the study of languages, sciences and mathematics.