FG – Board Sets Up Panels, May Ban Bob Risky movie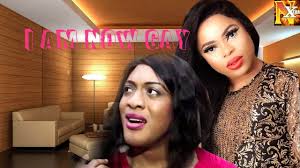 The National Film and Video Censors Board has set up three panels to analyse and classify a film titled, 'Bob Risky in Love' starring Idris Okunneye aka Bob Risky.
The movie was produced by Nollywood Namaste Production company while Ken Steve Anuka was the director.
In the movie, Bob Risky portrays a transgender woman named Cherechi who travelled out of the country as a man only to return to the village as a woman to the chagrin of his fiancee and relatives.
In the soundtrack of the movie, members of the public are encouraged to accept Cherechi aka Cherry B as a transgender.
However, a top official of the NFVCB told The PUNCH that three separate panels have been set up at the zonal levels to classify the Bob Risky movie.
He, however, said it must be noted that Nigeria has laws that prohibit homosexuality and therefore work of arts that promote it cannot be endorsed by the government.
The official said, "We have set up three different panels to view the movie which was given to us by the producers for classification and review.
"For the purpose of fairness and objectivity, we will not give specific details since evaluation is still ongoing but note that any movie that promotes homosexuality in contravention of our laws cannot be endorsed.
"Latest by next week we will deliver a verdict on the movie. If the movie is banned, it would be communicated to the producers and our enforcement team would mop up all copies of the film on the market and defaulters would be apprehended and fined appropriately."
The movie, which was released a few weeks ago already has over 500,000 views on YouTube and has garnered thousands of comments.
The official told our correspondent that the board was already aware of the fact that the video was online.
He said there was a need for the enabling laws to be reviewed such that online viewing would also be subject to censorship.
He said, "When classifying movies, we consider its cultural value, we check whether it is divisive given the fault lines of Nigeria as regards religion and tribe.
"We check its message, whether it promotes things that we find repugnant in our nation; we check the level of violence portrayed in the movie as well as sexual content and other things.
"Usually, it takes a minimum of one week and a maximum of two weeks for a movie submitted to us to be classified. But the online phenomenon is changing things and there is a need for us to adapt to new realities."
The NFVCB is the regulatory body set up by Act No.85 of 1993 to regulate films and video industry in Nigeria.
The board is empowered by law to classify all films and videos whether imported or produced locally.
It is also the duty of the board to register all films and video outlets across the country and to keep a register of such registered outlets among other functions.
RELATED: ASUU threatens strike, says FG Reluctant to implement 2019 agreement
E-Money Finally Reveals The Institution He Got His Doctorate Degree From
 E-Money has broken silence on the institution he received his Doctorate degree from.
E-Money few days after the University of Lagos debunked the report that it awarded Five Star Music boss a Doctorate degree has revealed that he got the award form the European-American University.
The Five Star boss took to his Instagram account to reveal that he received the Honorary Doctorate Degree in Business Management and Corporate Governance from the school.
Nigeria Singer Wizkid Hints On Expecting Baby Number 4
Nigeria singer Wizkid who already has three kids from different baby mama's appears to have dropped a hint on expecting another baby.
See post below:
It seems singer Wizkid is not tired of making more babies.
My Marriage with Jessica is Over – Mofe Duncan confirmed
You will recall that on Thursday, Jessica during a question and answer session on Instagram, revealed that her marriage with Mofe Duncan is over, she wrote;
One year has passed so quickly and I don't even know how. Over the last year, I have realized that marriage is not just about love, hugs and cuddles but it is also about fights and arguments. But even fighting and arguing with a sweet husband like you, feels like a cute thing to do. With the rate at which we're making priceless memories, we'll need at least a couple of more lifetimes to let them soak in. Happy 1st anniversary."
Jessica made this known during a question and answer session with her followers on Instagram yesterday.
Read Also: Nollywood Actor Mofe Duncan and Wife Jessica Split after 3 Years
Mofe has now confirmed it, stating that their marriage packed up over a year ago
The statement read;
I thank you all who have shown concern and sent prayers and messages, and may God repay such kindness. My marriage has been over for over a year as I have remained cordial with both families and would continue to remain cordial as God continues to guide me. My family & I were waiting for the right time to make an official statement but social media has it's own way of doing things. My family is doing well and I am doing well as I have moved on with my life and my career and I appreciate all the support shown. Thank you and God bless you all.