FMARD Approve Fertilizer Subsidy Grant to AFJP Farmers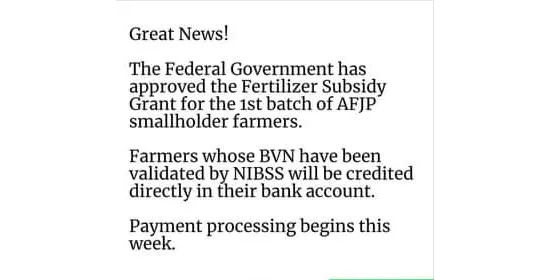 The Federal Ministry of Agriculture and Rural Development (FMARD) has reassured all enumerators of getting their stipends for every valid survey done, this was contained in apology messages sent to all enumerators.
TRENDING NOW
Fmard also apologized for the delay witnessed in payment, the plan to pay enumerators in on top gear, due attention is currently given to it, and in no distant time, payment will be made
Unpaid enumerators who participated in the dry season farming are to exercise some patience.
The rumor going around the corner "Fertilizer Subsidy will be paid from January to February 2022 because the plan has been changed to summer farming because the season has already passed" should be disregarded.
Fmardspace Enumerators not paid for months are at the edge of getting paid as the Federal Ministry of Agriculture and Rural Development is collecting data of all unpaid enumerators
This is a data collation form generated by the 36 STATES AND THE FCT FMARDPACE ENUMERATORS FORUM in order to compile the data of our fellow enumerators with payment issues, as part of our effort to ensure that all Enumerators with valid surveys get paid