How to Apply for Guaranty Trust Holding Company | Full time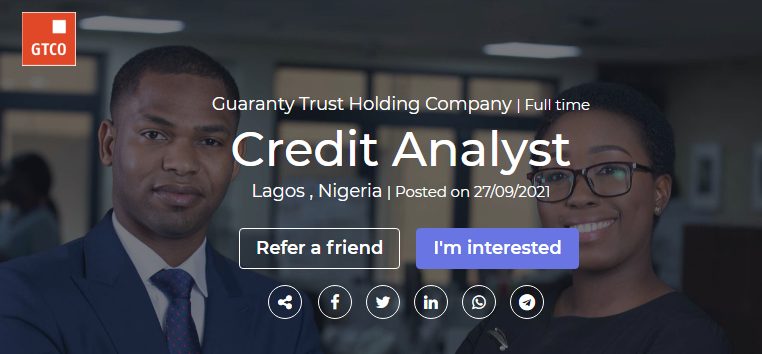 Guaranty Trust Holding Company – (Formerly GTBank) Founded three decades ago by a group of young, vibrant and dynamic professionals determined to transform traditional banking, Guaranty Trust has been on a mission to make financial services accessible to all Africans in ways that truly serve people's needs and help businesses thrive. 
TRENDING NOW
Headquartered in Lagos, Guaranty Trust has banking subsidiaries in Nigeria, Cote D'Ivoire, Gambia, Ghana, Liberia, Kenya, Rwanda, Tanzania, Uganda, Sierra Leone and the United Kingdom. The Bank currently employs over 12,000 professionals and has Total assets and Shareholders' Funds of ₦4.993trillion and ₦837.2billion respectively.
Guaranty Trust Holding Company Job Description
Reports to: Chief Risk Officer
Job Summary:
The Credit Risk Analyst will assist in assessing the creditworthiness of an individual or company. This would be done by gathering financial/non-financial information about an obligor and making recommendations as appropriate on credits. He/she should be up to date on the happenings in various industries to enhance the quality/requirements for credit applications and be able to make recommendations to the organization on procedural or policy changes.
Supervisory Responsibilities:
· This position has no direct supervisory responsibilities but does serve as a coach and mentor for other positions in the department.
Duties/Responsibilities:
· Evaluate clients' credit data and financial statements in order to determine the degree of risk involved in lending money to them.
· Review and analyze credit requests to determine financial and non-financial strengths, risk levels, and feasibility of proposed credit relationships and transactions.
· Prepare reports and communicate regularly about the degree of risk in lending money to clients.
· Develop and prepare spreadsheets and models to support analysis of new and existing credit applications.
· Fill out loan applications and include the credit analysis and loan request summaries, then submitting these loan applications to loan committees for their approval.
· Conduct thorough analysis of financial statements and assessment of credit requests, including new requests, changed requests, refinancing and annual due diligence.
Required Skills/Abilities:
· Superior quantitative analysis skills
· Strong analytical and critical thinking skills
· Good understanding of financial statements, spreadsheets, ratios, and concepts.
· Excellent verbal and written communication skills.
· Strong problem solving, decision making and research skills
· Ability to pay attention to details
· Good investigative skills
· Proficient with Microsoft Office Suite, SQL/relational databases and or related software
Education and Experience:
1. Bachelor's degree in finance, accounting, or other business-related fields
2. Minimum of 4 – 5 years of experience
3. Professional qualification in; Financial Risk Management (FRM), Association of Chartered Certified Accountants (ACCA), Institute of Chartered Accountants of Nigeria (ICAN)