How to Apply for Naija Loan Online 2021 from Nigeria & Abroad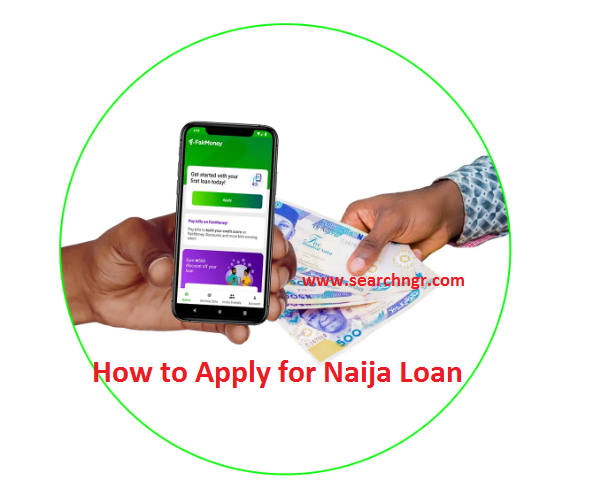 Use the Search Button below for more details.
Naija loan is also known as Nigerian loan is a method of collecting loans from Nigerian Financial institutions whether you are in Nigerian or abroad.
If you are thinking of starting a business or expanding your current business in Nigeria or abroad and you are a Nigerian citizen and possess evidence of citizenship such as a birth certificate or a bank verification number, you are already qualified to apply for the Naija Loan.
TRENDING NOW on searchngr.com
Naija loans are basically given mostly by Nigerian Microfinance banks, commercial banks, and Nigerian mobile loan apps which we would talk about as we proceed.
In this article, I will be revealing to you the top five (5) Naija loan mobile apps and where you can get funds from as low as N1,000 to as high as N1,000,000.
Some of these apps are similar in mode of operation, however, their interest rate is quite different, it is important to do your own diligent research and apply for the one that suits your goals and objectives.
Without much ado, let find out the topmost trended and topping list of others 5 Naija loan mobile apps that have so far portrayed a good record.
Below are the list of the top 5 Naija Loan Apps
Palmcredit
Toping the list of the top 5 Nigerian mobile Loans apps is Palmcredit, it has indisputably shown a good record score since its emergence.
Palmcredit is only for people 18 years or above.
Loans Limit Range From NGN 2,000 to NGN 100,000
Loans Duration Ranging Between 91days to 180days
Loans Interest Rate: 14% to 24%, Equivalent Monthly interest 4%~4.7%, the Annual Percentage Rate (APR) on a Palmcredit loan is 48%~56%
Example: If you choose a 6-month loan and borrow NGN100,000, Plamcredit charges an interest rate of 4.7% per month. Borrow NGN Interest Rate: 24% and The APR is 56%. 180 days Repayments of NGN 24,000. Total amount payment is NGN124,000.
How to apply for Palmcredit Loan?
Go to Google play store and download the Palmcredit mobile app via Download App
Register with your complete details and apply for the loan limit available on your account.
Get Approval
Disbursement to your bank account begins
NOTE: Repay your loans in time or complete Increase Limit tasks to build your credit limit and reduce the interest rate.
Branch
Another great Naija loan mobile app is the branch, their service is unique and has a good customer service experience, based on reviews available on the play store. They've as well displayed a good record score and, it's recommended for any person that wants to start small.
The branch is much more than an instant loan app; it's the only app in Nigeria that lets you make unlimited FREE transfers invest to earn 20% returns and more. Over 20 million downloads!
Loan characteristics:
Loan Amounts: ₦2,000 to ₦500,000
Repayment periods from 61 days to 1 year
Monthly interest rates range from 1.7% to 22%
APR from 20% to 265% per annum
Example of a Branch Loan:
Loan amount: ₦9000
Tenure: 2 Months
Interest Rate: 24% per annum
Monthly Interest rate: 2%
Processing Fee: None
New customer onboarding Fee: None
Total Interest: ₦360 ( ₦9000 x 24% / 12 x 2 = ₦360)
EMI: ₦4680
APR: 24%
The loan amount is ₦9000. The disbursed amount is ₦9000 Total loan repayment amount is ₦9360
How to Apply for Branch Loan?
Visit the google play store and search for the Branch Loan app or Download Here
Register with your complete details and apply for the loan limit available on your account.
Wait for Approval and after you have been approved;
Disbursement to your bank account begins
Migo
Toping the top 3 is Migo, Migo has no doubt created a platform for all, where almost everybody is qualified to apply for the loan as long as you have attained the age of 18+.
One good thing I love about Migo is that you can apply even directly from your bank mobile app or through the quick teller platform. Also, The more you use Migo, the better your offers become. Get lower rates and longer repayment terms, when you take a Migo loan and repay it on time.
How to apply for Migo Loan?
Visit the official website via https://my.migo.money/login or QUICKTELLR
Enter and verify your phone number
Choose the best fitting loan offer
Add your banking information
Wait for approval and disbursal of funds into your account
Renmoney
Renmoney is one of my favorite Naija loan mobile apps because, in Renmoney, you can get up to N6 million within 24 hours of application approval. If you are looking for a conventional loan to fast-track your business, renovating your home, buying a new car, paying rent, school fees, medical bills, etc, and take it to the next level, then Renmoney is a great platform to begin.
You can get a quick loan on the Renmoney app in just a few steps. Renmoney Naija loan is for employed or self-employed people as well as business owners. So, if you need an instant personal or business loan, you can borrow from ₦6,000 to ₦6,000,000 and repay in 3 to 24 months.
The Renmoney app gives you instant access to quick loans, savings, and investments with competitive interest rates.
What you get with a Renmoney loan
Fast and convenient loans from ₦6k to ₦6m
Flexible repayments from 3 – 24 months
Money in your bank account in minutes
Lower rates and longer tenure on your next loan
No paperwork
No collateral or guarantor needed
No hidden charges – you always see your loan terms before you commit
We keep it simple, no confusing language
Support team always available to help
Secure processes
How to Apply for Renmoney Loan Application
Download the mobile app via Google Playstore RENMONEY APP
Register and provide your persoal information
Verify the information you have provided
Select the loan amount you want to apply for
Get disbursement in your bank account once you're approved
Fairmoney
The last, but not the least on my table roll is Fairmoney, sometimes I do say their names speak for them, just fair in all their doing. Fairmoney is a great Naija loan mobile app that speaks for itself. With Fairmoney, you get a loan of up to ₦500,000 for 12 months in only 5 minutes, straight into your FairMoney bank account!
In the last four years, over 3 million customers have relied on Fairmoney for loans.
Loan amounts range between ₦1,500 to ₦500,000 with repayment periods from 61 days to 1 year at monthly interest rates that range from 2.5% to 30% (APRs from 30% to 260%)
Fairmoney Loan characteristics
Loan amount from ₦1,500 to ₦500,000
Repayment periods from 61 days to 18 months
APR from 30% to 260% per annum
Interest discounts of up to 90% for early repayments
An example of a FairMoney loan
Borrow ₦100,000 over 3 months
Interest (total cost of the loan): ₦30,000 (30% rate)
Three monthly repayments: ₦43,333
Total amount payable: ₦130,000
Representative: 120% APR
Conclusion
If you are in Nigeria or in diaspora and you have run out of cash and you are currently looking for a Naija loan to help facilitate or boost your business, buy a car, build a house, etc.
The above are the top 5 Naija mobile loan apps you can get started with. Choose according to your specifications and requirements. Be free to write to us via searchngr24@gmail.com