Nigeria Entertainers Group Suspends Protest In FCT; As Stakeholders Meet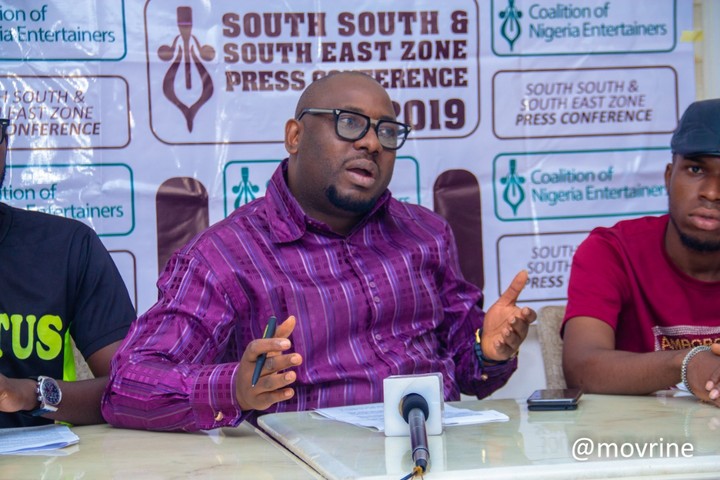 The National Coalition of Nigeria Entertainers has indefinitely suspended the intended protest scheduled to hold today, 15th of May, in Abuja, over the marginalized support of South-south and southeast Entertainers by the Federal Inland Revenue Service under the leadership of Dr. Babatunde Fowler.

The National President, Amb. Kenule made the notice of the impromptu suspension of the CNE nationwide protest available to newsmen this morning, after a critical meeting with stakeholders of the Coalition of Nigeria Entertainers South-south and southeast zones.

Amb. Kenule stated that the intended protest has been suspended as a result of the ongoing resolutions and interventions by key BOT members of the group. He called on members of the group across Nigeria and especially in FCT, South-south and southeast zones to relax on the intended protest, as they have been assured of necessary measures to tackle the ongoing marginalization and bias in the FIRS.

The CNE southsouth and southeast zones were ultimately ready for the protest today inline with the directive issued few days ago during a press briefing by the Leadership of CNE on the tribalistic sentiments and bias support for Lagos and Abuja based Entertainers, without any substantial intervention for South-south and southeast Entertainers in the industry.

According to a reaction from a Rivers state based media analyst on the onoing embattled situation between CNE and FIRS, he says, "It is however undemocratic for any national Institution like the FIRS to be bias and sentimental in their approaches, as to which geopolitical zone should benefit from their social responsibility or shouldn't. If they all pay their revenue, then they should all benefit from whatever social responsibility that the service provides".
RELATED: Ijeoma Okonkwo Celebrates Son Kanyechukwu's 7th Birthday