Nigerian Army Recruitment for SSCE 2023 Application (85 Regular Intake)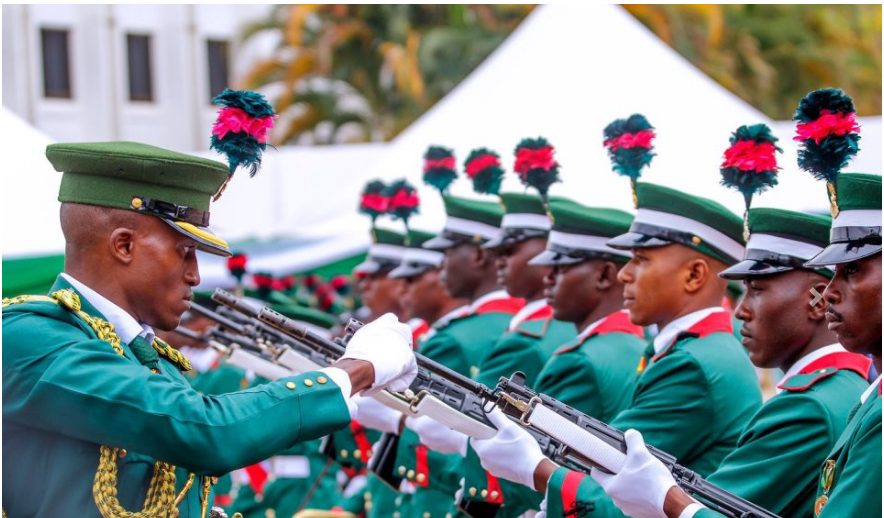 Nigerian Army Recruitment for SSCE 2023 – Do you wish to serve in the Armed Force? Are you looking for the possible steps to apply for the Nigerian Army? if so, we are pleased to inform you and the general public that the Nigerian Army 85RRI Regular Intake Recruitment 2023 Application Form is out.
RECENT POSTS
The Applications are invited from suitably qualified candidates to the 2021 Nigerian Army 82 Regular Recruits Intake (RRI) for tradesmen/women and non-tradesmen/women.
Interested applicants that wish to serve their country should follow these simple procedures to apply for the Nigerian Army Recruitment for SSCE 2023
Nigerian Army Recruitment for SSCE 2023 Basic Qualification
(1). Applicant must be a single and Nigerian citizen by birth and must possess National Identity Card/ NIN or BVN.
(2). Applicant must be medically, physically, and psychologically fit according to Nigerian Army standards.
(3). Applicant must be free of any criminal conviction by the court of law.
(4). Applicants must possess a valid birth certificate endorsed by the National Population Commission. Hospital or Local Government Council
or valid age declaration.
(5). All applicants must have WASCE/GCE/NECO/NABTEB/TRADES TEST/ CITY GUILD CERTIFICATE.
(6). An applicant must not be less than 18 years and not more than 22 years for non-tradesmen/women while tradesmen/women must not be more than 27 years as at the commencement of training by 31 Jan 2023.
(7). Measurement in height at least not less than 1.68 meters and 1.62 meters tall for male and female candidates respectively.
(8). Applicant must possess a valid certificate of state of origin.
(9) Application for Trades Men/Women Category should be into the following:
Nigerian Army Engineering Corps: Tilling Works (Twks), Draughtsman (D/Man), Plant Operator Mechanic (POM), POP Designer/Screeding, Land Survey (L/Svy) Electrical/Electronics Technology, Carpentry/Wood Technology, Metal Works, Plumbing, Masonry/Concrete Technology, Painting and Graphics Arts.
Nigerian Army Signals Corps: Electrical/Electronic Technicians, Phones/Computer Hardware Maintenance/Repairers, Computer Operators, Ethical Hackers (Cyber Security) and Computing/Computer Forensics Experts, Installation and Maintenance of Audio Conferencing, Installation and Maintenance of Video Conferencing, Design and Installation of Internet Protocol Telephony, Digital Image and Video Processing, Website Management, VSat Installer, Microwave Comms Expert, Rigger.
Nigerian Army Intelligence Corps: Knowledge and Skills in UAV, Drone etc, Computer Web and Application Designer (HTML, CSS), Radio and
Telecommunication Engineer/Technicians, Network Administrators (Should be able to manage a Local Area Network and Virtual Private Network), Computer Networking, General IT Knowledge, Computer, Phone and Mobile devices repair and maintenance, Geographic Information System, Cybersecurity/Ethical hacking, Server Administration.
Nigerian Army Corps of Supply and Transport: Drivers, Firemen, Caterers (emphasis on male) .
Nigerian Army Ordnance Corps: Textile Rofitters and Leather Works, Graphic Designers, Spare Part Technicians, Accounting Technicians, Tailor, Textile Technology, Printing Technology.
Nigerian Army Electrical and Mechanical Engineers Corps: Vehicle Diesel Mechanics, Vehicle Petrol Mechanics, Fabricators/Panel Beaters, Crane Operators, Hydraulic/Pneumatic Technicians, Caterpillar/Excavator Mechanics, Auto Elect, Powertrans Mechanics(gearbox), Vulcanizers (to be trained as combined rec mech/vulcanizers), Electro Medical, Machinist/instruments, Fuel Injector Specialist, Welders, Upholstery techs, Generator/Power Plant Techs, Spray Painting, Hydraulic Mechanics, electronics Technicians, Mechatronics, Brake System specialist, Truck/Heavy duty Veh Mech, Office eqpt techs, Air condition specialist, Fab/Panel Beater, Lathe/Mill Machinist (Turner), Programmers (Arduino/G Codes), Pneumatics Technician.
Nigerian Army Medical Corps: Electron Medicals, Radiographers, Occupational Therapy Technicians, Physiotherapy Technicians, Pharmacy Technicians, Nurses, Xray technicians, Dieticians Technicians, Medical Lab Technicians, Health Information Management, Health Service Admin, Optometry Technicians, Morticians, Speech Therapy Technicians, Dental Technicians, Environmental Health Technicians, Electromedical.
Directorate of Army Physical Training (PT): Archery, Athletics, Basketball, Boxing, Calisthenics, Football, Gymnastics, Handball, Judo, Kickboxing, Polo, Shooting, Swimming, Taekwondo, Volleyball, Weightlifting, Wrestling.
Nigerian Army Recruitment for SSCE 2023 Basic Requirement
| | |
| --- | --- |
| Minimium Age (Non – Trades) | 18 |
| Maximium Age (Non – Trades) | 22 |
| Minimum Age (Trades) | 18 |
| Maximum Age (Trades) | 27 |
| Minimum Height (Male) | 1.68 |
| Minimum Height (Female) | 1.62 |
| Minimum Educational Qualification | All applicants must have WASCE/GCE/NECO/NABTEB/TRADES TEST/ CITY GUILD CERTIFICATE. |
| Application Period | 13th March 2023 -14th April 2023. |
Nigerian Army 85 RRI Regular Method of Application
Apply online at the recruitment portal https://recruitment.army.mil.ng
Log on to the link mentioned above using the username and password.
Complete the application form, upload relevant documents, submit it online, and print a copy. Then, print and complete the Guarantor Form as appropriate.
Ensure you bring with you copies of the application and guarantor forms to the designated state recruitment centres.
Selected candidates will participate in the State Recruitment Screening Exercise scheduled for 2nd – 17th May 2023.