Npower Batch A & B News Today, Npower Reps gives deadline for payment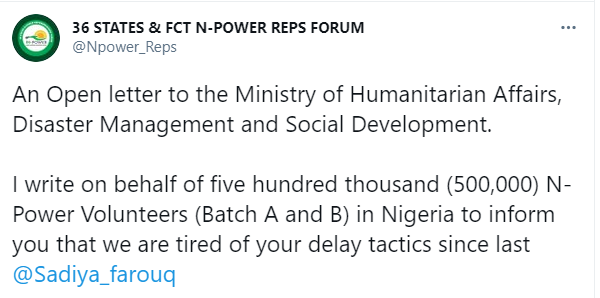 The president for the National Npower Reps forum Comrade Kabiru Aliyu Pelemi, has given a deadline to break even for the outstanding payment yet to receive by many volunteers.
TRENDING NOW on searchngr.com
Kabiru who wrote an open letter to Sadiya states as follows:
An Open letter to the Ministry of Humanitarian Affairs, Disaster Management, and Social Development. I write on behalf of five hundred thousand (500,000) N-Power Volunteers (Batch A and B) in Nigeria to inform you that we are tired of your delay tactics since last year you exited us with no meaningful plan during a pandemic period.
Nexit program is another delay tactic and a big scam to us because over 200,000 Volunteers could not complete their registration and no meaningful plans yet on the portal.
After our last peaceful protest on the 23rd of July, 2020, and our media conference at Ilorin Kwara state, the ministry came up with different delay tactics to stop us from embarking on another protest. I and some other State Reps have been to the ministry on different occasions and it's all promise and fail which even make the people we represent think we were bribed, of which we never for one day collected transport fare from the ministry for all visitors.
36 States and FCT N-Power Representatives Forum give you from today Tuesday,16th March, 2021 to Monday, 12th April 2021 to fulfill all the promises you made to the Exited N-Power Volunteers or we mobilize 500,000 Nigeria youths to occupy the ministry.
This time around, it will be no going back. We advised you to use the data of N-Power Volunteers through their NPVN portal but you failed to listen to us just because of reasons best known to you.
Enough is enough.
Signed:
Comrade Kabiru Aliyu Pelemi.
National N-Power President