NYSC Biometric Secret Code For Registration 2023 Explained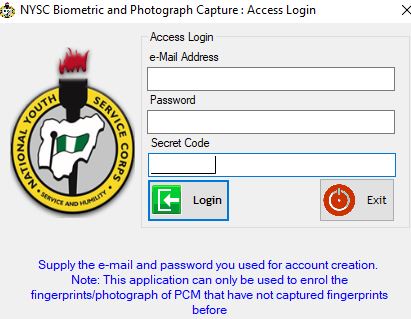 NYSC biometric secret code allows PCMs to carry out thumbprints using the official NYSC Biometric client software. The Secret Code meant for only accredited centres will curtail irregularities from Cyber Cafe Operators.
According to the information gathered the NYSC biometric secret code is a 6-digit pin entered at the point of performing biometrics, this pin is uniquely tied to each Cyber Cafe Operator that enables them to carry out PCMs registration on the portal successfully.
RECENT POSTS
The NYSC biometric secret code is not meant to be given to any random persons as this may likely cause your license to be suspended or revoked. Meanwhile, some Cyber Cafe Operators may likely want to share this secret code given to them by NYSC with their close business partners. Please note that the NYSC officials have issued a warning against any fraudulent activities or mistakes that may occur at the point of registering a candidate.
If the NYSC biometric secret code given to you is tied to any fraudulent activities you will have yourself to blame. Hence, it is important you keep your secret code safe and only to yourself alone.
How to get NYSC biometric secret code
You can get the NYSC biometric secret code by applying to be accredited as Cyber Cafe Operator. This process usually takes about 72 hours to formally complete. However, this also varies for each NYSC state secretariat centre.
I have the Secret Code, What next?
If you have the NYSC biometric secret code, you can simply update the biometric client software in other to carry out thumbprints for PCMs. If not, simply log in to your CBO Official back office to generate your secret code and you are good to go.
Finally, if you have any questions regarding NYSC issues you can leave a comment below and be sure I will attend to it in a jiffy, you can also send a mail to searchngr24@gmail.com to get the most relevant information that matters.