NYSC Stream 2 Batch C Online Registration 2021 Begins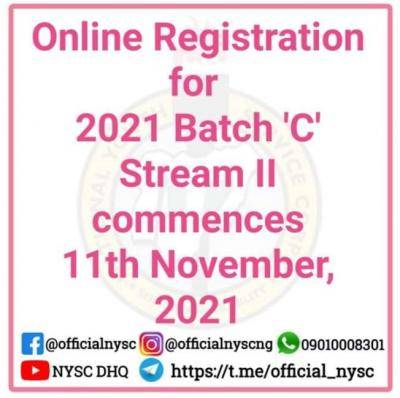 This is to inform 2021 Batch 'C' Stream II Prospective Corps Members that Online Registration will commence from Thursday 11th November 2021.
the only official website to apply for NYSC Registration is https://portal.nysc.org.ng/
TRENDING NOW
The Online Registration is for all Prospective Corps Members, foreign-trained graduates, part-time graduates. Concerned PCM are hereby advised to complete their registration before the deadline.
Where to Register NYSC in Nasarawa State?
If you are within the Nasarawa State environs, Walk to Fidelity Computers, Suite 30, Pulaku Plaza, Old Karu Road, Mararaba, Nasarawa State to carry out your registration.
There are two buttons on the portal. One is Red and one is green.
FRESH REGISTRATION: I have not registered on this portal before and I have not been deployed before by NYSC, click fresh registration
REVALIDATION: I have been deployed in a previous NYSC batch but did not show up in camp, click revalidation
Before you go into the NYSC registration portal to begin your registration, you should read about these vital things.
There are no accredited centers and you shouldn't allow anyone to fool you to believe that lie. NYSC does not have accredited centers you can register. You can do your registration anywhere.
Beware of fake websites that will scam you. There are always several scams during the NYSC registration. Stay with us here and watch out so you don't fall, victim.
Even if you are the first to register, that doesn't guarantee NYSC will post you to Lagos. Either you register on, first day or last day, NYSC posting is random.
Never provide fake information or fake documents at any point in time of your NYSC Journey.
On no account should you pay or do anything about NYSC on any other website except on the original NYSC official websites which are:
www.nysc.gov.ng
nysc.org.ng
portal.nysc.org.ng
You will pay N3,000 if you want to print your NYSC call-up letter online. But if you want to visit your higher institution to collect the letter, you don't need to pay. I will advise you pay. You will still pay if you go to your school.
Foreign Students
7. If you are a foreign graduate, that is, you finished from an accredited institution outside Nigeria. You will go to the NYSC Portal, register and upload the documents below:
a. West African School Certificate (WASC) (with not less than 5 Credits at 2 sittings) or its equivalent; or General Certificate of Education (GCE O' Level) (with not less than 5 Credits at 2 sittings) or its equivalent; or NECO (with not less than 5 Credits at 2 sittings) or its equivalent; or High School Diploma or its equivalent.
b. First Degree or Higher National Diploma (HND) Certificate (Second Degree or Ph.D not necessary).
c. Transcript of the first Degree or HND.
d. International travelling Passport showing data page and date of departure for the course of study.
e. ATTESTATION LETTERS OR TESTIMONIALS are not acceptable in lieu of original Degree/HND Certificates.
f. All working class Graduates are required to upload their original ADMISSION LETTERS and LETTER OF APPROVAL from their respective employers to undertake their courses.
g. All graduates of Medicine and other health related courses such as Nursing Science, Laboratory Science, Physiotherapy, Pharmacy etc MUST posses and upload current-professional license. Expired license is not acceptable for mobilization.
8. Married female prospective corps members (whether locally or foreign-trained) should upload copies of their marriage Certificates, evidence of Change of name, and their husbands' place of domicile during registration.