PalmPay Offers To Support COVID-19 Affected Individual With N100,000 Each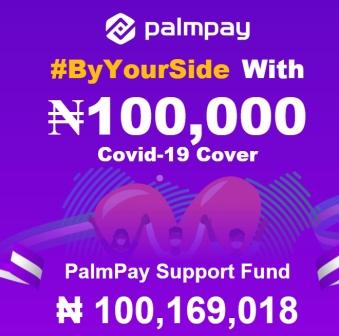 PalmPay is an app that rewards customers when they make transactions such as transfer of money, payment of utility bill, purchase of recharge cards and lots more.
The company was launched in Nigeria in October 2019 and has over 500,000 customers in the nation.
The company has initiated a PalmPay support Fund for individuals who have been affected by COVID-19.
Who will be eligible for the ₦100,000 PalmPay Support Fund?
To be eligible to apply for the PalmPay Support Fund (the "Fund"), the Customer must:
1. Registered on PalmPay and verified your BVN with PalmPay at least 2 weeks before being a confirmed case of coronavirus (COVID-19).
2. Transact by doing any of the following transactions at least 2 times per week on PalmPay to stay covered.
Money transfer
Top-up airtime
Buy data bundle
Water
Electricity
TV
Internet
Cash in & cash out
Repayment-easy buy
Repayment-palm credit
Send lucky money
3. Have a confirmed case of coronavirus (COVID-19) and supply evidence of a positive test result.
How to apply for the ₦100,000 PalmPay Support Fund?
Subject to the preconditions of the Fund, if you are eligible and have been confirmed COVID-19, you may apply for the fund allocation to the maximum amount of ₦100,000.
To apply please contact the PalmPay customer care team with a proof of a positive test result from your hospital and any documents required by PalmPay.
You can contact PalmPay via live chat or phone on 01700 5700.
Payouts to you from the Fund will be made directly to your PalmPay wallet account.
Payouts to you from the Fund are in PalmPay's sole discretion and will be reviewed based on the evidence and documents which has been provided to the Fund.
The PalmPay Support Fund will be used to support eligible customers. The Terms and Conditions for fund allocation and eligibility to the Fund may change over time.
PalmPay reserves the right, at its discretion, to change, modify, add or delete portions of these Terms and Conditions, at any time for any reason without giving prior notice to the customers.
In case of any dispute, PalmPay reserves the right of final decision and interpretation.