Apply for Pan Africa Youth Leadership Program for Young African Leaders 2022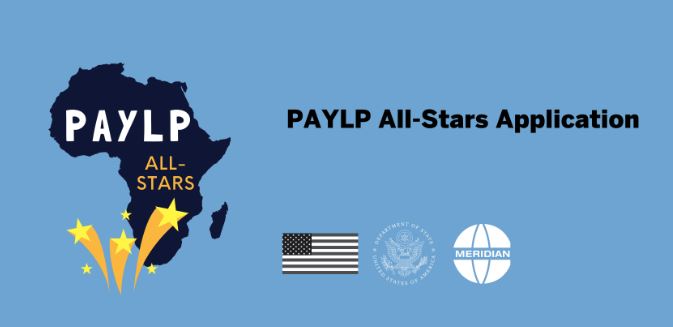 United States-funded The Pan Africa Youth Leadership Program, sponsored by the Bureau of Educational and Cultural Affairs (ECA) and carried out by Meridian International Center, involves young people from over 38 different African nations in a training program for civic engagement and cultural exchange that takes place in the United States.
RECENT POSTS
The Pan Africa Youth Leadership Program is providing a one-time All-Stars alumni program to bring together the best PAYLP alumni from across all cohorts (2013-2022) and nations. African PAYLP Alumni who are gifted, diligent, and highly driven will have the chance to spend three weeks in the US in February or March 2023 participating in an intense leadership development program.
After a brief orientation conference in Atlanta, Georgia, where participants will be welcomed and given an overview of the program, a two-week community leadership program will be held in one of three American cities. Participants will receive leadership training, networking and volunteer opportunities, and cultural experiences throughout this section of the program. Participants will present Community Action Plans during the program's final forum in Washington, DC. Participants will have the chance to apply for funds to carry out their Community Action Plan after the program is over. The following abilities will be emphasized by this year's PAYLP All-Stars:
Leadership Development
Communications and Negotiation Skills
Peacebuilding and Conflict Resolutions
Community Activism
Eligibility Criteria
Applicants must:
Be an adult mentor or youth participant alumni from any in-person or virtual PAYLP cohort 2013-2022.
Be at least 18 years or older by the start of the program, on February 18, 2023.
Be from one of the eligible countries including Angola, Benin, Botswana, Burkina Faso, Burundi, Cameroon, Central African Republic, Chad, Cote d'Ivoire, Democratic Republic of Congo, Eswatini, Ethiopia, Gambia, Gabon, Ghana, Guinea, Kenya, Liberia, Madagascar, Malawi, Mali, Mauritania, Mauritius, Mozambique, Namibia, Niger, Nigeria, Republic of Congo, Rwanda, Senegal, Seychelles, Sierra Leone, South Africa, South Sudan, Sudan, Tanzania, Togo, Uganda, Zambia.
Demonstrate strong leadership qualities in his/her university or community;
Demonstrate a commitment to community service and extracurricular activities;
Be mature, responsible, independent, confident, open-minded, tolerant, thoughtful, and inquisitive;
Be willing and able to fully participate in an in-person intensive program, community service, and active educational travel program during the exchange, as well as in follow-on activities afterwards in their home countries, such as outreach to others in the country cohort.
Based in home country or show intent to return to support home community.
Be in possession of a valid national passport or able to obtain one before January 1, 2023.
Be willing and able to obtain a covid vaccination for travel.
Strong candidates will be active in the PAYLP network, and have completed a successful project supporting their community.
Not be employed by the U.S. Embassy.
Method of Application
Interested persons should go to https://fs3.formsite.com/Meridian1630/vn9gyzh3d7/index.html