Police Arrest 93 Kidnap, Robbery Suspects In Kaduna, others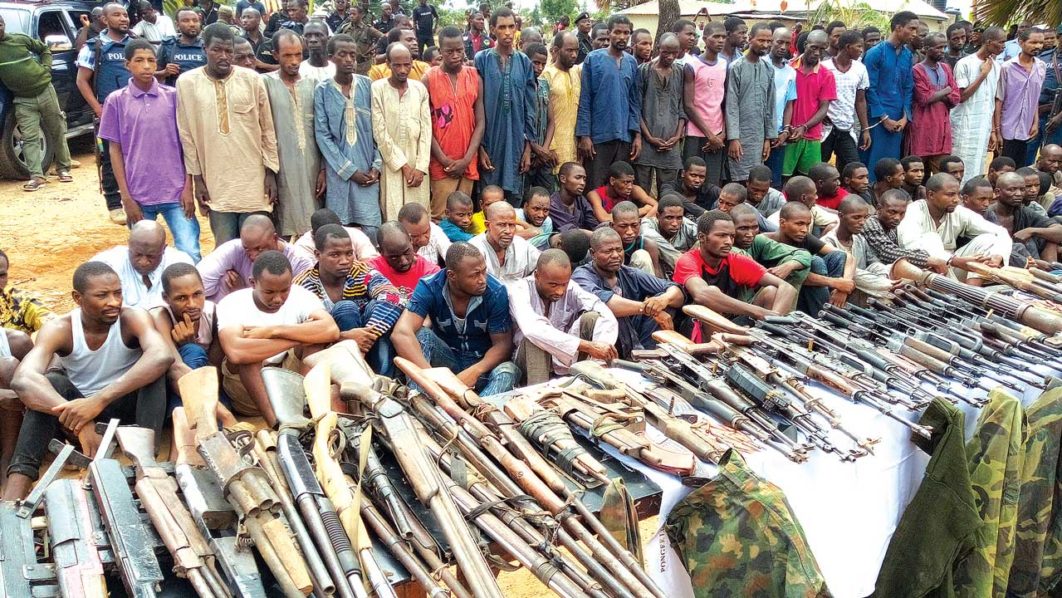 Ninety three suspected kidnappers terrorizing communities in many states in the North have been arrested, Force Headquarters announced yesterday.
They were arrested within the last two weeks by Operation Puff Adder launched to fight bandits in some northwestern states.

Force Headquarters spokesman Deputy Commissioner of Police, Frank Mba, announced this when he paraded the suspects yesterday at Katari village on the Kaduna-Abuja High Way. He said the arrests are a result of recent counter kidnapping strategy adopted by the police.

He said the suspects were arrested from different parts of the North-Central, North-Weste and North-Eastern parts of the Country. He said the operatives recovered one rocket launcher, 35 AK47 rifles, ten locally-made AK47 rifles and 500 live ammunition.
He said they also recovered from the bandits  eight locally-made revolver pistols, ten pairs of military camouflage uniform, two operational vehicles, and other incriminating items.
Mba said the operations leading to these arrests and recoveries were carried out by a joint team of policemen attached to Operation Puff Adder,  North-Central sector.
He said the team consists of detectives from the Special Anti-Robbery Squad (SARS), Force Intelligence Unit, Intelligence Response Team (IRT) and the Special Tactical Squad (STS).
He said other operatives in the Joint Mission include personnel from the Police Mobile Force (PMF) the Counter Terrorism Unit (CTU), Special Protection Unit (SPU) and the Special Forces.
He said Police investigators backed by their counterparts in the Forensic and Technical Intelligence Units have commenced comprehensive investigation of all the Ninety-three (93) suspects arrested in these operations.
He said the investigations are aimed at tracking, uncovering and disrupting the sources of arms supply to the criminal groups, as well as identifying their collaborators, and bringing all involved in these heinous crimes to justice.
When Daily Trust asked Mba yesterday about the fate of other suspected kidnappers arrested and paraded by the police in the past, he said some have been charged to court, while others are in police custody on court orders.
He explained that the investigations of kidnapping are lengthy and complicated processes, adding that sometimes the police have to obtain court orders to hold the suspects.
Also, fielding questions from journalists in Katari, the Kaduna State Commissioner of Police (CP), Ali Janga said since he ressumed office he had liaised with the special operations teams set up by the IGP to ensure that the "Kaduna-Abuja road is safe, the Birnin Gwari -Kaduna axis too is safe, Kaduna-Zaria road is safe and Zaria-Funtua road is safe."
He said: "As you followed the road, you have seen the security arrangement on the road, we assure the general public and Nigerians that the Kaduna Abuja road is safe.
"They can now start plying it, as we are on ground to ensure that we checkmate the activities of the hoodlums and all the criminals."
He also said farmers in the flash zones in the state can return to their farms adding, "If they could not go to their farms then, now they can go to their farms, we have been moving into the kidnappers den to arrest them, most of the kidnappers you are seeing here, we moved to their hideout and arrested them."

RELATED: IGP- New strategies needed in tackling terrorism
Edo decides: Live Results from INEC Collation centre in Benin
The results of the governorship election held in Edo State is currently being announced from the Collation Centre of the Independent National Electoral Commission, INEC, in Benin City, the capital of Edo.
Voting and sorting of ballot papers were concluded yesterday and the electorates are waiting eagerly for the election result.
The election was keenly contested between the candidate of the All Progressives Congress, APC, Pastor Osagie Ize-Iyamu and the incumbent Governor and candidate of the Peoples Democratic Party, PDP, Godwin Obaseki
INEC had earlier said that the delay in the receipt of collated results from LGAs was responsible for the delay of collation at the State level.
However, collation started in the early hours of Sunday.
Follow this thread for results from INEC Collation Centre in Benin City.
Ovia North-East
APC – 9,907
PDP – 16,987
Etsako West
APC – 26,140
PDP – 17,959
NEWS:  Edo decides: PDP, Obaseki sourcing materials for election petition tribunal – APC alleges
Ikpoba Okha
APC – 18,218
PDP – 41,030
Owan East
APC – 19,295
PDP – 14,762
Egor
APC – 10,202
PDP – 27,621
Owan West
APC – 11,193
PDP – 11,485
Esan Central
APC – 6,719
PDP – 10,694
Uhunmwonde
APC – 5,972
PDP – 10,022
Esan North-East
APC – 6,556
PDP – 13,579
Igueben LG
APC – 5199
PDP – 7870
Oredo
APC – 18,365
PDP – 43,498
Esan South-East
APC – 9,237
PDP – 10,563
#Live – #EdoDecides2020: Obaseki leads as INEC announces LG results… see details
Ize-Iyamu and Obaseki
Edo State Governorship Election Results:
IGUEBEN LGA
APC 5,199,
PDP 7,870
ESAN NORTH EAST
APC 6,556
PDP 13,579
ESAN CENTRAL
APC 6,719
PDP 10,794
IKPOBA OHKA
APC 18,218
PDP 41,030
UHUNMWODE LGA
APC 5,972
PDP 10,022
Ovia North-East
APC – 9,907
PDP – 16,987
EDO SOUTH LOCAL GOVT. (EGOR)
APC 10202
PDP 27621
Etsako West
APC – 26,140
PDP – 17,959
Ovia North-East
APC – 9,907
PDP – 16,987
Owan West
APC – 11,193
PDP – 11,485
Oredo
APC – 18,365
PDP – 43,498
Esan West
APC – 7,189
PDP – 17,434
Edo election results: Gov Obaseki widens lead against Ize-Iyamu in 4 LGs
Incumbent Governor, Godwin Obaseki of the Peoples Democratic Party (PDP) is currently leading the All Progressives Congress (APC) opponent, Pastor Osagie Ize-Iyamu in the Saturday's election.
The Independent National Electoral Commission, INEC, is currently announcing the results from Local Government Areas at its office in Benin City.
The results collated in four LGAs early Sunday, show that Obaseki is ahead by 14,994 votes.
Obaseki won in all the four LGAs as results from the remaining 14 councils are still being collated.
The LGA results:
ESAN SOUTHEAST
APC- 9237
PDP-10565
Registered voters-73907
Accredited voters-20274
UROMI ESAN NORTH EAST LGA.
APC 6559
PDP 13,579
TOTAL VALID VOTE 20369
REJECTED VOTES: 361
NEWS:  Edo Decides: PDP accuses APC leader of hijacking election materials
TOTAL VOTE CAST 20730
Total registered voters 84241
Accredited voters: 20825
Esan Central LGA:
PDP: 10,694
APC: 6,719
IGUEBEN LGA Edo central
APC: 5,199
PDP: 7,870
Registered Voters: 46,828
Accredited Voters: 13,404
Valid Votes: 13,170
Rejected Votes: 212
Total Valid Votes: 13,382