RARE Tips on Mental Health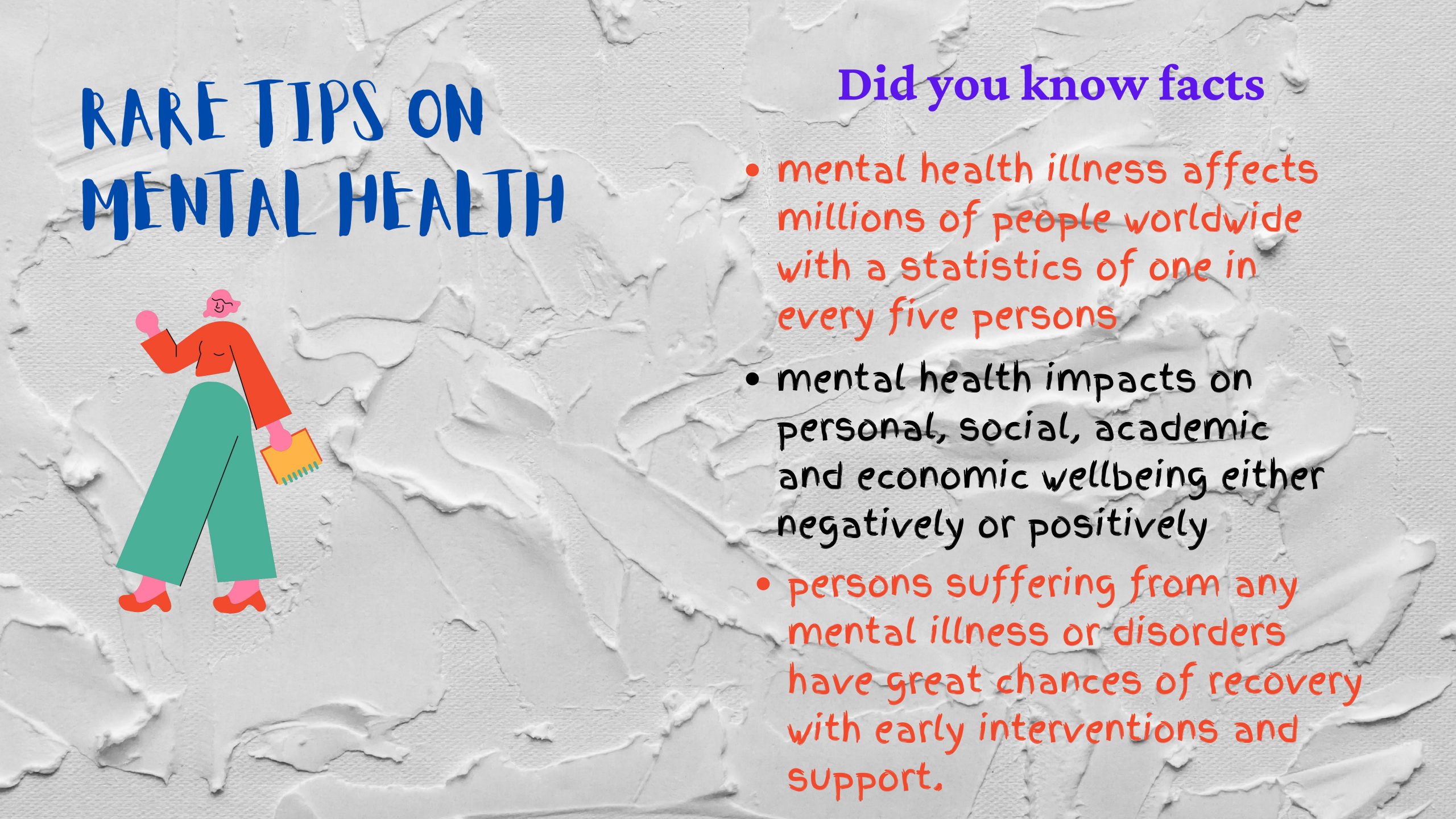 Let's Know the Difference Naija
One common major mistake we make in this country is to assume mental health and mental illness means the same, this is why a lot of people perceive questions regarding mental health as rather insulting than a question of care. It is important to note that everyone has mental health but not everyone has a mental illness or mental health (psychological) problem.
Mental health does not imply that one has a problem with his mental ability but rather refers to the state of well-being of the mind which includes our emotions, feelings, perceptions, interpretation of and relationship with our immediate environment.
When one is mentally ill, there is a malfunction in his personal, occupational and social life. His emotions, feelings, and perceptions affect his reasoning and judgment, his ability to resolve problems and his social relationships.
Different events in our life predispose us to mental illness such as depression, anxiety, substance dependency and stress disorder which means we're constantly in a struggle to maintain balance with our mental health. Fortunately for some, such events are handled well while others develop an unhealthy coping pattern that eventually leads to these disorders which varies in severity (mild, moderate and severe).
Nigeria is currently the largest country in Africa and the seventh in the world and ranks 15th in caseload of depression; A mental health disorder that can lead to suicide and can only be prevented with early interventions.
Although, the country's recognition level of mental health is still poor; with a below-standard mental health policy, lack of resources, about 10 psychiatric hospital and a fewer than 300 psychiatrist and other mental health workers left to cater for a population of over 200 million, still, there is room for growth.
Statistics show that about one in five Nigerian suffer from a major mental health breakdown and this can happen to anybody at anytime. The best option firstly is to recognize that mental health is just as important as physical health and anyone who suffers from it has a chance of recovery. Be careful not to contribute to the stigma, rather show support and love. Identify people who may be going through a lot this tough time and show care. A simple smile on the face can make everything better and most importantly be open to speaking to a therapist when in need or referring one to seek professional help.
Remember that there are trained professionals who can handle all form of mental or psychological disorders. Let them be your first step than traditional/fetish or religious treatment.