Senator Adeola Empowers 5,500 Traders in Ogun West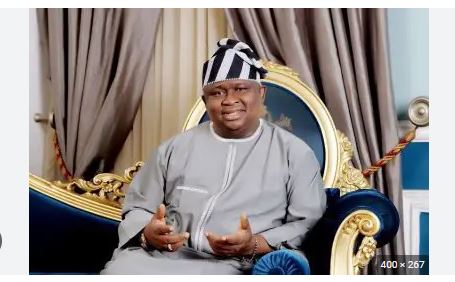 The Chairman of the Senate Committee on Finance and the All Progressives Congress (APC) candidate for Ogun West, Solomon Adeola, has empowered more than 5,500 traders selected across the five local government areas in the senatorial district.
Trending Now
The money grant, totalling N137.5 million, was distributed to traders at N25million to each beneficiary to boost their businesses.
Speaking at the empowerment programme held at the Asade Agunloye Pavilion in Ilaro, Adeola, popularly called Yayi, explained that the market women and men were drawn from various markets in Yewaland.
The grant was transfer to beneficiaries through bank transfer to insulate them against the economic crunch being faced by the country.
Adeola said the market women had witnessed low levels of trading activities of goods and services, hence the empowerment programme.
He pointed out that the programme tagged: 'Oloja Yayi', was fashioned after the economic empowerment of the state Ogun State Governor, Dapo Abiodun, 'Oko'wo Dapo' and the 'Trader Moni' of President Muhammadu Buhari, which he said had provided succour to market women across the state.
According to him, the initiative was meant to complement the empowerment efforts at both the state and federal levels.
While lauding the state governor for the initiative, Adeola disclosed that he facilitated the empowerment in conjunction with Nigerian Institute for Oceanography and Marine Research (NIOMR) with Start-up grants for agro-manpower, artisanal manpower and cage culture carp specie restocking for market women and men.
He said: "This is a micro financing scheme to boost the businesses of our market men and women. It is not a loan but a grant to bring succour to a critical sector of our people.
"My vision here is to further impact directly on critical sectors of the society in ways to cushion the effects of the downturn of the economy on vulnerable persons. Last year, I trained and empowered 3,500 Ogun West citizens in various skills with all of them going away with various sets of equipment for their learnt skills as well as start-up grants.
Equally, last year, I trained and empowered 200 youths from the senatorial district in the area of ICT, while a few weeks back, another batch of 250 graduates were trained to be internationally certified in different Microsoft software packages and are awaiting empowerment in a week or two from now."
While disclosing that about 250 physically-challenged persons in the senatorial district were being trained with the aim of empowering them with a cash grant of N100,000 each, Adeola said the beneficiaries of 'Oloja Yayi' were selected on merit in a transparent manner supervised by various market leaders.
In her address, the Iyaloja General of Ogun State, Mrs. Yemisi Abass, commended the senator for the kind gesture.
Abass said the financial support would give a boost to the beneficiaries and also prevent them from obtaining outrageous loans with high interest rates.