Sydney Postgraduate Research Scholarship 2022 in Hydrogen Storage Materials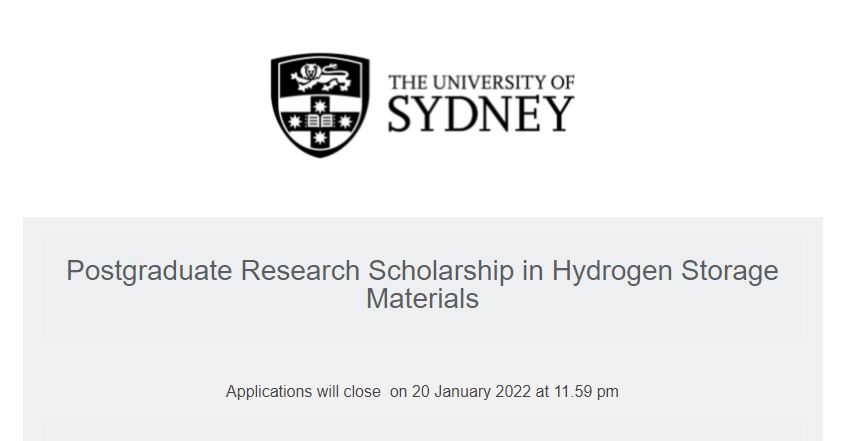 A postgraduate research scholarship shares a $35,629 yearly scholarship to support an outstanding Ph.D. student to conduct research into hydrogen storage materials.
TRENDING NOW
Highlights
Value
Eligibility
Open date
Close date
$35,629 p.a. (up to 3.5 years)
Domestic student Ph.D. student in Faculty of Science
Holds first class honors or equivalent
22 December 2021
20 January 2022
How to apply
Apply here.
Benefits
This scholarship is valued at $35,629 per annum and is tenable for 3.5 years.
Who's eligible
You must:
be a domestic student
have an unconditional offer of admission to undertake a full-time PhD at the Faculty of Science
hold an honours degree (first class) or equivalent, or a bachelor's or master's with a substantial research component in social and political sciences
be willing to conduct research in the synthesis and characterisation of hydrogen storage materials, involving laboratory synthesis, determination of materials structure through X-ray and neutron diffraction and various spectroscopic techniques, measurement of materials properties through gas adsorption and calorimetric techniques, and materials fabrication and technological application
be willing to undertake research under the supervision of Professor Cameron Kepert.
The University of Sydney accepts scanned copies of relevant supporting documentation for scholarship applications. All supporting documents must be true and complete records. You should be prepared to provide original documents or certified copies of supporting documents at any time. Detailed checking of supporting documents is an inherent element of our scholarship selection processes and may involve contacting the original issuing authority or relevant tertiary admissions centre, or other organization (whether education or otherwise), or individual, whether in Australia or overseas to verify documents.
Failure to provide documents on request, or the discovery of either fraudulent documents or misrepresentation of true circumstances in association with your application, may lead to the rejection of your application for admission/scholarship, the withdrawal of your offer, or the cancellation of your enrolment.
Background
This scholarship has been established to enable an outstanding Ph.D. scholar to conduct research in the synthesis and characterization of hydrogen storage materials under the supervision of Professor Cameron Kepert.
This scholarship is supported by the Australian Government Research Training Program (RTP) Scholarship.
Visit the official website to apply for this scholarship