6 Reasons You're Unable To Get A Job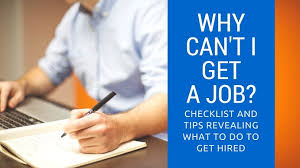 Unemployment is a huge problem in Nigeria of today. There just seem not to be enough jobs for the teeming population of graduates and job seekers. It has become the proverbial "many are called few are chosen" thing.
There are many graduates that apply for jobs almost every day yet they wonder why they don't get invited for interviews or aptitude tests. The fact is their countless job applications might have been turned down due to one or more of the following reasons. So what are these obstacles and how can you avoid them as a job seeker? 
1. Defeatist mindset
One of the common excuses among Nigerian job seekers who fail in their job search is "you will never get a job until you know somebody". While it is true that in Nigeria of today who you know matters, I sincerely believe that it is over exaggerated. The average company still offers merit-based employment. No serious company would want to populate her workforce with mediocre.
Not everyone on the company's payroll is a member of the MD's family or his/her relative. When a candidate fails in his/her efforts to get a job by merit they turn around and lay the blame on their lack of connection.
Read also: Yakubu Dogara-Abolished Age Limit On Employment & Jobs/Vacancies
2. Poor networking skills
Life is all about networking. Networking is one of the most easiest and effective way to get a good job in Nigeria. You would be surprised at the number of vacancies that are not advertised in the public media. How do such companies recruit staff? By referral and word of mouth of course. The good thing here is that the usual crowd that is a common occurrence in the publicized job adverts is non-existent here. So if you do not know how to effectively network, your chances of lingering long in the job market is very high.
3. Applying for every available job
To some job seekers, it's all about quantity. They believe that your chances of getting an invite increases with the number of CVs you send. They tend to care less whether or not they are qualified or eligible for such positions. It's more of the "try your luck" thing. Interestingly they are surprised that they are not getting invited for interviews and tests.
4. Reluctance to volunteer or intern
The mindset of the average job seeker is that they see job opportunity as a way to make big money. They would most likely turn down an opportunity to volunteer or intern if they are very sure that there will not be any financial reward in it for them.
What they however fail to realize is that most companies would prefer a candidate that have volunteered or interned to one without any experience at all. Volunteering is one quick and easy way to gain the much needed work experience that most job seekers are not considering.
Read also: NNPC Test Venue and Dates Sent to Selected Applicants (See here)
5. Inability to make a positive impression during interviews
This is about the major reason why most job seekers do not land the job. You have just a few minutes to make a lasting impression on the minds of your interviewers. Inability to do this will lead to the infamous but common response "you'll hear from us later" which they never do.
Employers are more interested in where and how you can add value to their organization and not everything that you've done. Consider an interview as a movie trailer and not a season film.

Have you been seeking a job for a while now without any success? Have you attended job interviews that you were unsuccessful? What do you think are the reasons for such? Please kindly share with us.
6. You don't sell yourself.
If there's ever a time to sell yourself, it's when you're job hunting. If you don't clearly convey your skills, knowledge, and education, it's no one's fault but your own if you don't get the job.
There's a fine line between being cocky and confident, so make sure you're always tempering your confidence with humility. Sharing past accomplishments conveys pride in your work, while going on and on about how educated you are screams "smug."
RELATED:  You need Download NNPC Past Questions and Answers Click here