eNaira Wallet App Download (APK and iOS Version)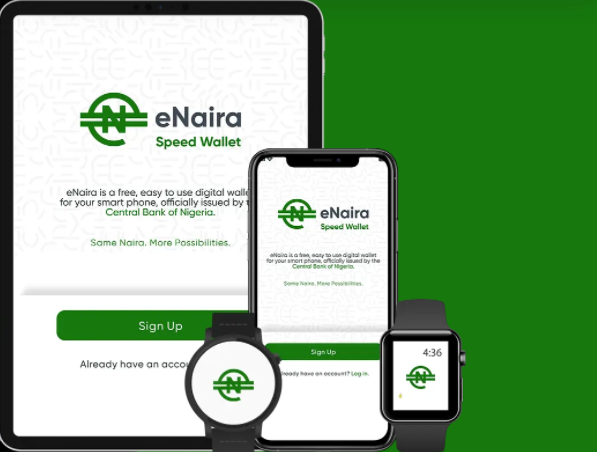 eNaira Wallet App Download is available on the Google play store and iOS app store, the eNaira wallet will enable you to fund, transfer and check transactions online.
The eNaira is a digital currency paired with the Naira fiat currency, the digital coin is created to enhance and strengthen the Nigerian Naira and boost her economy in general.
TRENDING NOW
eNaira is a free, easy to use digital wallet for your smartphone, officially issued by the Central Bank of Nigeria with a slogan as "Same Naira, More Possibilities".
With the eNaira, you can perform transactions such as transferring money in form of digital currency to your loved ones abroad. For instance, if you want to send money to your friend who is leaving in Canada, you can simply walk to any eNaira Merchant and demand that you want to transfer eNaira fund to another eNaira Wallet.
The merchant will then collect your money in fiat equivalent to the eNaira fund you want to send and then make a transfer of eNaira digital currency to your friend's eNaira wallet abroad.
Your friend, who has eNaira Wallet App Download in his or her phone will then walk to any merchant and ask for a withdrawal. This is an easy way to get fund transfers to your loved ones overseas.
Features of the eNaira Wallet App
Unified Payment System
What this means is, customers can transfer money from their bank account to the eNaira Wallet without any hustle and store for a longer period of time, where charges will not be deducted for ATM maintenance fees or SMS alert charges.
Peer-to-Peer Payment
This feature will enable people to transfer money to others through the eNaira wallet or the eNaira.com – eNaira Official Website linked to an account or a card. This process will use blockchain technology to perform transactional transfers.
Bank Accont Management
With the eNaira Wallet, customers can manage their account statement, check account balances, view their wallet balance, and view transaction history.
Contactless Payment
This enables two people transacting business to use the QR scanner enabled in the app to perform a seamless transfer by just scanning the barcode. Just the way you pair Xender to another Xender.
How to Download eNaira Mobile Wallet App
You can download the eNaira wallet app by following the guidelines below:
Go to Google Play Store via eNaira Mobile App
Visit the official eNaira Website via https://www.enaira.com/download
Installet the eNaira Mobile App on your device
Hit the "Register" button
Continue with your BVN and other personal details
Congratulations, you have finally installed the eNaira wallet App on your device.
Please, note that the eNaira wallet apk and iOS versions are yet to be released, we would update this section as soon as the app is finally unveiled.