FATE Foundation Aspiring Entrepreneurs Digital Programme 2021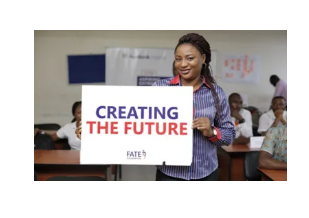 Are you a young Nigerian who aspires to venture into entrepreneurship but don't know how? Then Hurry and apply for the FATE Foundation Aspiring Entrepreneurs Digital Programme 2021, This Fate Foundation Training 2021 is open to all young Aspiring Nigerian entrepreneurs. But applicants are been reminded to ensure that they have complied with the eligibility criteria to avoid disqualification.
TRENDING NOW
In this article, we have listed the requirements and all the necessary information you need to scale through the rigorous acceptance procedures. Stay with us.
About FATE Foundation Entrepreneurs Digital Programme
In partnership with Facebook, FATE Foundation is happy to announce the 2021 Aspiring Entrepreneurs Digital Programme calendar which is focused on enabling young entrepreneurs across the country with essential strategies, knowledge, skills, and tools to grow their businesses with essential digital strategies.
Host Nationality
The Fate Foundation Training 2021 is hosted in Nigeria.
There are other Nigerian Scholarships available for International students in 2021.
Eligible Nationality
The FATE Foundation Aspiring Entrepreneurs Digital Programme is open to only Nigerian Citizens.
Aside from the Fate Foundation Training 2021, there are other scholarships available to international students to study abroad. You can check our scholarship by country to access all scholarships available.
Scholarship Worth
Facebook Advert Credits (for the winners of the Pitch Competition)
One Year (1) Mentoring Support from FATE Foundation
One (1) Year Business Advisory Support from FATE Foundation
Access to Free Business Support Tools & Applications
Eligibility For The Fate Foundation Training 2021
To be eligible, you must be:
Between 18 – 35 years old
Computer Literate
Have Access to a Laptop or Data-Enabled Device
Have already registered and launched a business.
Have graduated from an Accredited Tertiary Level Institutio
Curriculum
Each programme stream will run four (4) times a week (from Mondays to Thursdays) over a four (4) week period and will involve very interactive and hands-on practical workshop learning sessions. With the background that entrepreneurs are now engaging more within a digital market place, the curriculum will have a strong digital marketing component and also cover critical areas for successfully building a new business including:
Business Model Canvas
Business Plan Development
Budgeting, Financial Management and Financial Reporting
Marketing and Pricing Strategies
People Management
Raising Financing
Digital Marketing including using Facebook Business Tools
Business Pitching
How To Apply For The Fate Foundation Training 2021
Stage I: Interested applicants must complete the online form here. Applicants will be required to complete all the required fields and upload the following:
Passport Photograph
School Certificate or Statement of Result
Birth Certificate
Resume
CAC Certificate
Application Deadline For FATE Foundation Aspiring Entrepreneurs Digital Programme
The Fate Foundation Training 2021 is currently ongoing.
With the information from 2019, the deadlines are shown below.
We have taken a cue from here to say that it is ongoing since it has taken this turn for 2 years.
Link
For More Information on the Fate Foundation Training 2021. Click on the link below: