Federal Poly Ede Application Form & Remedial Admission Form 2019/2020 Academic Session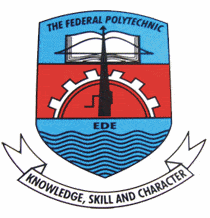 Federal Poly Ede ND (DPT, PT) & Remedial Admission Form 2019 and How to Apply
The management of the Federal Poly Ede (EDEPOLY) invites applications from suitably qualified candidates for admission into ND (Part- Time), ND (Daily Part Time) and Remedial Programme of the Institutions for the 2018/2019 academic session in the following courses.
Available Course Federal Poly Ede ND
ND Part and Daily Part Time Level
SCHOOL OF APPLIED SCIENCES:
a) Computer Science
b) Hospitality
c) Tourism
d) Science Laboratory Technology
e) Statistics
(g) Geological Technology
SCHOOL OF BUSINESS STUDIES
a) Accountancy
b) Business Administration & M
c) Banking and Finance
d) Marketing
e) Office Technology and Mgt.
f) Library & Information Science
SCHOOL OF ENVIRONMENTAL STUDIES
a) Architectural Technology
b) Building Technology
c) Estate Management
e) Quantity Surveying
f) Surveying & Geo-Informatics
e) Fashion Design& Textile Technology
SCHOOL OF ENGINEERING TECHNOLOGY
a) Computer Engineering
b) Electrical Electronics Engineering
c) Mechanical Engineering
d) Civil Engineering
e) Agric & Bio-Environmental Engineering Technology
f) Horticulture and Landscape Technology
Basic Studies  Federal Polytechnic Ede:
Remedial Programme in Science Technology and Management
How to Buy Federal Polytechnic Ede ND Part-Time & Remedial Form.
Application forms for ND PART TIME AND DAILY PART TIME Progammes attract Ten Thousand Naira (N10,000:00) only while Application form for the Remedial Programme attracts Five Thousand Naira (N5,000:00) Only. Successful completion of the programme will lead to admission into any of the programmes run in Polytechnic.
Payment should be effected using any Remita Payment methods (e.g. Master Card, Bank Payment, Online Payment, Internet Banking, ATM, Remita App etc.).
METHOD OF APPLICATION:
Visit the following web page: www.federalpolyede.edu.ng.
Pay the sum of N10,000/N5,000 through the school portal using remita platform 
Fill the following information
Upload your recent passport 
Fill the O'Level Result 
Click the Summit Botton. 
Closing Date: 31st August, 2019.