How to Apply for Social Exchange Market Grant 2022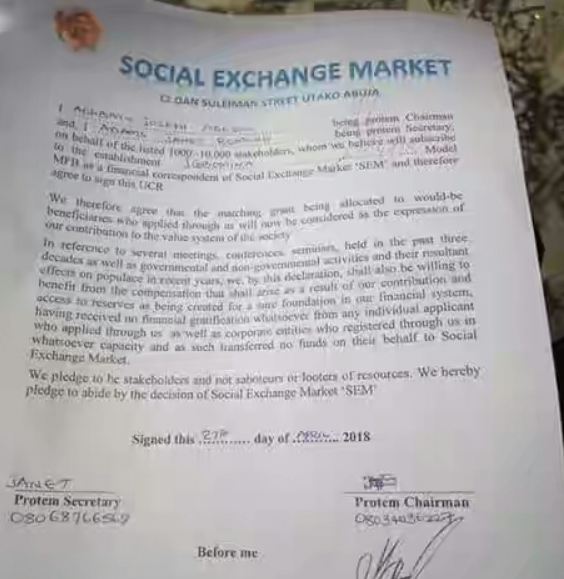 How to Apply for Social Exchange Market Grant 2022 – Social Exchange Market Grant Empowerment is a team of experts in affiliation with the Development Bank of Nigeria that has been able to reach an agreement to provide grants to the teeming Nigerian youth (age bracket 16-60 years). 
TRENDING NOW
About Social Market exchange grant
This grant is open to Nigerians without gender bias and will be duly monitored to achieve its main aim of empowering youth in their various entrepreneurial pursuit. The main focus of this grant is towards agriculture; most importantly, while other fields of life are duly welcome.
Please note that the grants given will be meticulously monitored to ensure that the funds are used judiciously. Great Impact Model Micro Finance Bank Great Impact Model Micro- Finance Bank (GIMMFB) is a vision birthed by the drive to empower the youth through viable information and financial support so as to help them achieve the success they so desire in their particular fields of business.
How to Apply for Social Exchange Market Grant 2022
1. Register on www.gimmfbank.org to create an account 
 2. Login and fill our Business Questionnaire
3. Visit the office at GOAMCO Building, Fanibi Street, Champion Junction, Akure, Ondo State for your Application form Programme Eligibility The Social Exchange Market Empowerment is open to all citizens of Nigeria that do business within the borders of Ondo State.
Note
Applicants must also have a feasible business or project to put forward. However, preference would be given to agro-allied businesses as it is the main focus of this empowerment programme.
For more information visit http://www.semgrant.com.ng/