Glo Rewards Customers in Joy Unlimited Extravaganza (How to Win Prizes)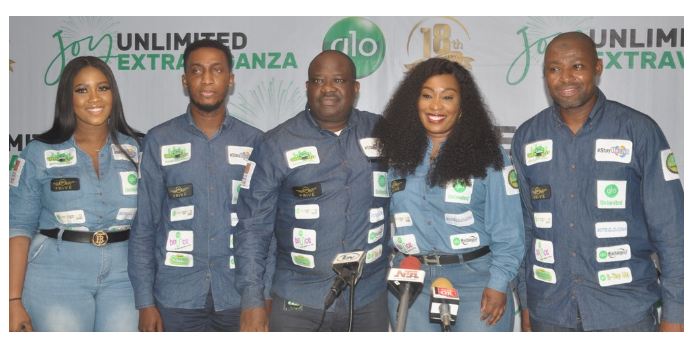 Glo Rewards Customers in Joy Unlimited Extravaganza (How to Win Prizes) – L-R: Brand Specialist, Blessing Itoje; Regional Activation Manager, Lagos, Victor Kalu; Head, Enterprise Business, Zakari Usman; Adeboye Adeniji of Enterprise Business Group; and Regional Manager, Primary, Lagos, Abdulrasaq Ande, all of Globacom at the launch of the company's consumer reward promo, Joy Unlimited Extravaganza, in Lagos on Thursday.
TRENDING NOW
As the year winds down, data solutions provider, Globacom, has rolled out a life-enhancing customer reward promo tagged Joy Unlimited Extravaganza to spread mirth among its teeming subscribers.
The promo is a customer-appreciation offer in which thousands of mouth-watering prizes worth hundreds of millions of Naira are available to be won by customers. It is in continuation of the different promotions from Globacom, including the recent Everyday Bonanza and My Own Don Beta promos where thousands of telecom subscribers in Nigeria were serenaded with varying prizes.
Globacom said at a press conference held on Thursday in Lagos that Joy Unlimited Extravaganza promo is to commemorate its 18th anniversary and to appreciate and thank its numerous customers who have stood by the brand all over the years. "Since 2003 when Globacom changed the paradigm at launch with the people–oriented offer 'Per second billing' the company has consistently brought innovation, quality service delivery and unequalled benefits to its subscribers in the past 18 years", Glo said.
The company said the promo was in line with its commitment towards empowering its consumers at all times adding that over 500,000 prizes including different household appliances like fridges, television sets, generators have been earmarked for winners across the country.
Glo Rewards Customers in Joy Unlimited Extravaganza (How to Win Prizes)
Recharge a cumulative N500 in a week (Mon. to Sun.) to qualify for weekly draws.
Recharge cumulative N2,000 in a month to qualify for the monthly draws.
Every N500 recharge threshold = 1 weekly draw entry and every N2,000 recharge threshold = 1 monthly draw entry.
First 5,000 customers to reach the N500 cumulative recharge for each day will get any of these instant prizes – free night data; YouTube; WhatsApp pack (1 day validity) OR free CRBT (1-month validity).
All recharge amounts – physical, electronic, special (4x, 5x, etc.) are valid for qualification. Me2U, BMC, data & other bundle purchases are not valid and do not count for qualification
This nationwide promo is open to all new and existing prepaid & postpaid customer.
for more information visit gloworld.com