How to Register for Digital Nigeria Conference and Exhibition 2021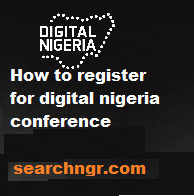 Digital Nigeria Conference – The Digital Nigeria Conference and Exhibition is a veritable platform for creating awareness, developing appropriate frameworks, and setting goals for best practices in Information and Communications Technology (ICT) for Nigeria.
Under the Supervision of the Federal Ministry of Communications and Digital Economy, invites participants to register for Digital Nigeria Conference.
TRENDING NOW
Main for Digital Nigeria Conference
The aim of the conference is to brainstorm on contemporary IT issues of relevance across the globe to address Nigerian challenges for sustainable socio-economic development.
The conference and exhibition have seen steady growth with participation from different stakeholders from both the public and the private sector organisations.
Accordingly, this maiden edition is designed to focus on bringing together the Government, Academia, Tech Ecosystem, Venture capitalists, Corporates, and Entrepreneurs to exhibit the Nigerian talents and chart new ways to achieve economic prosperity through the utilization of Digital Technologies in Nigeria.
The theme for Digital Nigeria 2021 is, therefore, "Digital Transformation: A Path to Sustainable Digital Economy" while the sub-themes are as follows:
Digital Transformation – Digital policies, human capital, infrastructure, and relevant initiatives as requisites to building digital Nigeria.
Data Protection and National Security – NDPR: Evolution and evaluation of data security in Nigeria; Information and insights to harnessing data to solve insecurity problems.
Emerging Technologies – Adoption of emerging technologies towards building a Digital Nigeria; Threats and opportunities of digital currencies for the Nigerian economy.
Digital Inclusion – Nigerian digital footprints for digital economic prosperity
Innovation and Entrepreneurship – Innovative exploration in creating digital enterprises; Nigerian start-up ecosystem
The conference, scheduled to hold between 24th to 29th October 2021, is expected to be declared open by His Excellency, President Muhammadu Buhari (GCFR), who will be the Special Guest at the occasion.
How to Register for Digital Nigeria Conference
Individual participants are required to click https://www.digitalnigeria.gov.ng/ to register
For further inquiry, kindly contact tyekinni@nitda.gov.ng or +2348035905311.
Thank you.