INEC ADHOC Recruitment 2021 Apply for Presiding Officer at Kaduna State Forthcoming Elections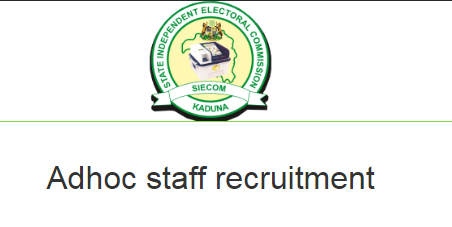 Kaduna State Independent Electoral Commission in preparations for the forthcoming Local Government Council Elections hereby invites applications from suitably qualified candidates to fill the various positions enumerated below:
The only official website to apply is https://jobs.kadsiec.kd.gov.ng/
TRENDING NOW
HAVING A PERSONAL ACTIVE BANK ACCOUNT IN THE APPLICANT'S NAME IS A MAJOR REQUIREMENT FOR APPLYING.
JOB DESCRIPTION
Shall be at the LGA two days before the Election to confirm posting
Shall be in charge of EVM Machines at the Polling Units
Collect all Election materials from the Supervisory Presiding Officer (SPO) on the eve of the Elections and properly document them
Shall be in charge of the Polling Unit (PU) and paste all necessary Election materials such as Posters, Voters Register, etc.
Supervise the Assistant Presiding Officer posted to the Polling Unit (PU).
Shall educate the Voters on the Election Process and arrangement of the Polling Unit.
At the end of the Voting process, he shall add the Results from the Voting Points where applicable and announce the result of the Polling Unit
Shall paste a copy of the Results at the Polling Unit (PU).
Prepares reports and submits to Supervisory Presiding Officer (SPO)
EDUCATIONAL/PROFESSIONAL QUALIFICATIONS
Maybe a serving civil servant on grade level 8-10.
Graduate of any recognized higher institution with either 1st degree/HND or equivalent
Maybe a final year student of any Federal or State Tertiary Institutions.
Maybe a Diploma holder from any higher institution.
Must be computer literate
Must not be a card-carrying member of any Political Party
Previous knowledge of operations of Electronic Voting Machine (EVM) will be an added advantage.
How to Apply
To apply kindly visit the official website via https://jobs.kadsiec.kd.gov.ng/ and submit the form, you must provide your educational certificate in NOT more than 2MB, and using ANY of the formats PDF | odt | docx | doc | jpg | jpeg | jpe | png ONLY