N-Power Batch C Beneficiaries that Missed Physical Verification Exercise should fill the form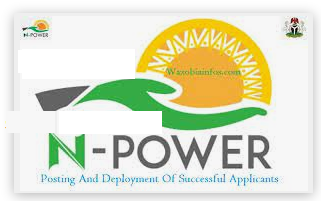 Use the Search Button below for more details.
This is to inform the general public that the N-Power implementing office has designed an online webpage specifically for those N-Power beneficiaries in Nasarawa State who missed the recently concluded Physical verification exercise.
Those concerned are to use their mobile devices or go to any Cyber Cafe nearest to them to visit the website using this link at https://nararawastate-sip.org/update/n-power-batch-c1-beneficiaries-that-missed-physical-verification-exercise/914339?
Then click on the N-Power Batch C1 form link to supply all necessary information requested. This information includes; Name of the beneficiary, Beneficiary ID, Phone number, Email, Contact address, Programme, LGA of residence, State, etc.
TRENDING NOW
The exercise is for a period of 7 days, beginning from Monday 25th of October 2021 to 1st November, 2021, after which the webpage will be shut down and responses downloaded for further necessary action. The public is advised to give this information the attention and seriousness it deserves, please.
Signed:
Hon. Imran Usman Jibrin.
SSA/Focal Person, Social Investment Programme,
Nasarawa State.
25th October 2021