Open Heaven 4th April 2021 RCCG Daily Devotional (The Efficacy Of The Anointing)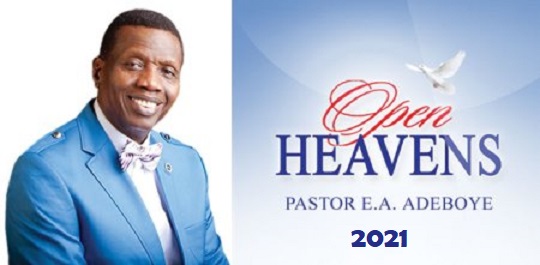 Open Heaven 4th April 2021 is an RCCG Daily devotional manual that is written to ingest into the heart of the Christians. Today's daily devotional is talking about the topic "The Efficacy Of The Anointing".
OPEN HEAVENS DAILY DEVOTIONAL
DATE: SUNDAY 4TH APRIL 2021.
THEME: THE EFFICACY OF THE ANOINTING.
Open Heaven 4th April 2021 RCCG Daily Devotional (The Efficacy Of The Anointing).
MEMORISE: How God anointed Jesus of Nazareth with the Holy Ghost and with power: who went about doing good, and healing all that were oppressed of the devil; for God was with him. Acts 10:38
READ:

John 9:1-7

1 And as Jesus passed by, he saw a man which was blind from his birth.

2 And his disciples asked him, saying, Master, who did sin, this man, or his parents, that he was born blind?

3 Jesus answered, Neither hath this man sinned, nor his parents: but that the works of God should be made manifest in him.

4 I must work the works of him that sent me, while it is day: the night cometh, when no man can work.

5 As long as I am in the world, I am the light of the world.

6 When he had thus spoken, he spat on the ground, and made clay of the spittle, and he anointed the eyes of the blind man with the clay,

7 And said unto him, Go, wash in the pool of Siloam, (which is by interpretation, Sent.) He went his way therefore, and washed, and came seeing.
Open Heaven 4th April 2021 RCCG Daily Devotional (The Efficacy Of The Anointing)
MESSAGE:
There is power in the anointing, it makes the carriers do what is ordinarily, humanly impossible. From the memory verse of today, you would see that Jesus was only able to achieve all He did because of the anointing. No wonder one of His divine title is Christ- the Anointed. Jesus performed miracles through the anointing. For example, in John 9, He produced a brand-new eye for a young man who had been blind from birth. The good thing is that He wants us-believers, to do greater works than He (John 14:12).
That is why He promised to send the Holy Ghost- the medium of anointing, to us as we see in Acts 1:8: "But ye shall receive power, after that the Holy Ghost is come upon you: and ye shall be witnesses unto me both in Jerusalem, and in all Judaea, and in Samaria, and unto the uttermost part of the earth."
As believers, we can do all things through the anointing, provided we are willing to surrender to the Lordship of the Baptizer in the Holy Ghost. As you would see from the Bible reading for today, the anointing can destroy all forms of barriers to miracles, including the barrier of sin. When, in John 9:2, the disciples asked Jesus whether it was the man He healed or his parents who had sinned, He said neither of them did! This is surprising because according to Romans3:23, all have sinned, and this is an eternal truth. What happened with the blind man, however, was that anointing had destroyed the barrier of sin that would have denied him his miracle. This is what the anointing can do.
If we would do greater works, we must seek anointing through the work of Jesus' atonement and press on to holy living. When we fail in our consecration to the Lord and also lack anointing, we begin to find excuses as to why miracles are not happening. While it is true that sometimes the people, we are praying for may not have faith and may not be living right, we cannot deny that Jesus healed many people who lacked faith. He did this by the power of the anointing. Beloved, whether it is you who want a miracle or you want it for someone else, the key factor is anointing. Receive the anointing as you believe in Jesus' Name.
Open Heaven 4th April 2021 RCCG Daily Devotional (The Efficacy Of The Anointing)
PRAYER POINT:Father, please endow me with the anointing and use me as an extension of Your hand to heal the sick and raise the dead in the name of Jesus.
BIBLE IN ONE YEAR: Numbers 19-20.
AUTHOR: PASTOR E. A. ADEBOYE
HYMN 24: TAKE MY LIFE, AND LET IT BE
1. Take my life, and let it beConsecrated, Lord to Thee;Take my moments and my days,Let them flow in ceaseless praise,Let them flow in ceaseless praise.
2. Take my hands, and let them moveAt the impulse of Thy love;Take my feet, and let them beSwift and beautiful for Thee,Swift and beautiful for Thee.
3. Take my voice and let me singAlways, only, for my King;Take my lips and let them beFilled with messages from Thee,Filled with messages from Thee.
4. Take my silver and my gold;Not a mite would I withhold;Take my intellect, and useEvery power as Thou shalt choose,Every power as Thou shalt choose.
5. Take my will and make it Thine,It shall be no longer mine:Take my heart, it is Thine own;It shall be Thy royal throne,It shall be Thy royal throne.
6. Take my love, my Lord, I pourAt Thy feet its treasure store;Take myself, and I will beEver, only, all for Thee,Ever, only, all for Thee.