Survival Fund Second Batch Payment Begins: FG Crediting 100,000 Persons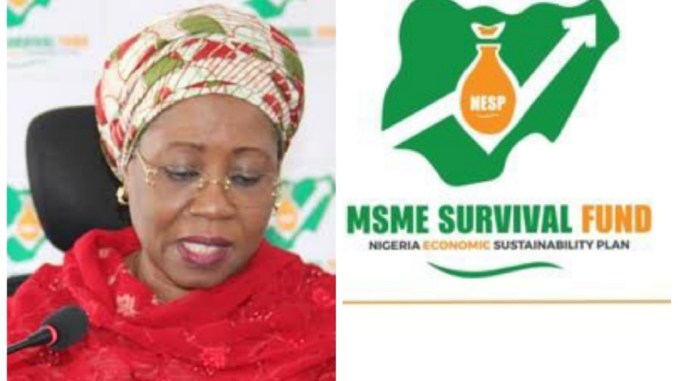 The Federal Government has started crediting 100,000 Businesses/Persons with N50, 000 each-Free Grant in the Survival Fund Programme.
The official website to apply for survival fund application is http://survivalfund.gov.ng/
TRENDING NOW on searchngr.com
Over 100,000 Businesses N50, 000 each as a free grant to caution the effect of the covid-19 pandemic on businesses of SMEMS in the country.
The Survival Fund covers such schemes as N50,000 Payroll Support for three months to over 300,000 beneficiaries; one-time grants of N30,000 each to about 100,000 artisans, and 100,000 business name registrations paid for by the Federal Government.
Meanwhile, 100,000 businesses will be funded and supported through the Guaranteed Off take Scheme (GOS) and General MSME Grant Applications, hence the effect of the covid-19 pandemic will have less impact on the livelihood of the average and poor masses.
Target Beneficiaries:
The scheme targets two categories of beneficiaries namely;
Employees of MSMEs
Self-employed individuals, both schemes have made provision for a 45% female business participation and special needs participation of 5%.
General Features
General Grant: Support the survival of 100,000 businesses most affected by the COVID-19 pandemic with N50,000 each
Payroll Support: Support 500,000 vulnerable MSMEs in meeting payroll obligations of between N30,000 to N50,000 per employee over 3 months
Formalization Support: provide free CAC Business Name registration for 250,000 new businesses
Artisan/Transport Support: provide 333,000 artisans and transport business operators with a N30, 000 operations grant to reduce the effects of income loss
Guaranteed Off take Scheme: Bulk purchase of products from 100,000 MSMEs to protect jobs and livelihood
Requirements
Must have a staff strength of no less than 3 persons
Must be owned by a Nigeria
Employees' company must be registered in Nigeria under the Corporate Affairs Commission, CAC
Must have BVN by company CEO
Self-employed Individuals in the following categories
Artisans, Electricians Plumbers
Service providers in the transportation sector-Bus drivers, Taxi drivers, Rideshare drivers. (Uber, Bolt Taxify etc) and Mechanics).