USAID US Embassy Jobs Abuja | Apply Here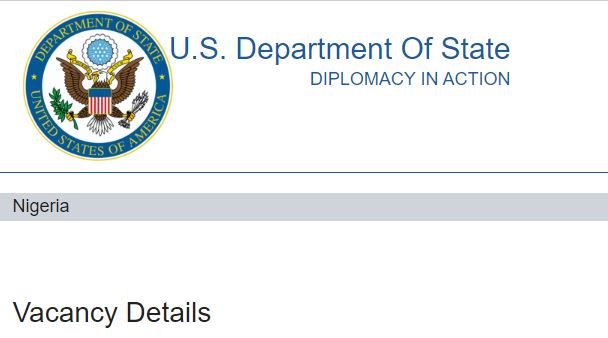 USAID US Embassy Jobs Abuja is currently available for the new intake, interesting applicants should kindly read through the application guidelines below to learn how to apply.
TRENDING NOW
This vacancy is open to Internal Nigerian Candidates Only.  Security Clearance Required: Public Trust – Background InvestigationAppointment
Type Permanent Appointment Type Details: Five (5) years renewable, estimated to start on or after December 2021Marketing Statement: USAID is an independent Federal Government agency that receives overall foreign policy guidance from the Secretary of State.
With headquarters in Washington, D.C., USAID fosters transformational development around the world. Our work supports economic growth and trade; agriculture and the environment; education and training; democracy and governance; global health; global partnerships and humanitarian assistance.
We operate in the following regions of the world: Afghanistan and Pakistan, Africa (all of Africa), Asia, Europe and Eurasia, Latin America and the Caribbean, and the Middle East.
Summary:
This position provides support to the Office of Acquisition and Assistance (OAA) for planning and implementation of development assistance, primarily through direct acquisition and assistance (A&A) awards.
The job holder manages the OAA's award closeout process for contracts, grants, and cooperative agreements awarded by USAID/Nigeria.  S/he is the Subject Matter Professional for A&A-related systems used by the OAA team and administers a small portfolio of awards.
Supervisory Position: No Relocation Expenses Reimbursed: No Travel Required: Occasional Travel
Duties
Award Closeout – 40%
The Acquisition and Assistance (A&A) Assistant job holder initiates and manages the closeout process in accordance with Federal Acquisition Regulation (FAR) 4.804, 2 CFR 200.343, 2 CFR 200.345, USAID's Automated Directives System (ADS) 30 at "Guidance on Closeout Procedures For A&A Awards", and USAID/Nigeria's Office of Acquisition & Assistance (OAA) standard operating procedures.
Active Award Duties
The A&A Assistant reviews proposed closeout plans for expiring awards and provides feedback and/or guidance to the responsible Contracting/Agreement Officer (CO/AO). The A&A Assistant provides guidance to the assigned COR/AOR concerning the closeout rules and regulations.
Expired Award Duties
The A&A Assistant prepares correspondence related to expired awards and reviews award files to confirm the contractor/recipient complied with award terms and conditions and ensures resolution of all administrative actions. The A&A Assistant will independently negotiate an amount of funding to de-obligate with contractors and recipients; after securing a written agreement, coordinate with the requiring and financial management offices to decommit funds in the procurement system of record (currently GLASS); draft the modification and associated documentation for the CO/AO's review and signature.
The A&A Assistant establishes and maintains a record system to manage and track the administrative closeout process for contracts, task orders, grants, cooperative agreements, fixed amount awards, and Public International Organization (PIO) agreements.
S/he provides advice and guidance on USAID-funded property and other logistics issues that require interpretation and adaptation of guidance for expired contracts and assistance instruments. Identifies issues, gathers, and analyzes information, and, with appropriate oversight, develops advice and guidance to resolve substantive problems affecting administrative closeout of instruments.
Award Administration – 20%
The A&A Assistant administers A&A awards issued by OAA and technically monitored by support offices (i.e.  Program, Financial Management) by ensuring that funding is available when required; and, under the guidance of the CO/AO works with COR/AORs to monitor the achievement of the overall goals of the activity.
The A&A Assistant researches and resolves issues that may arise during award performance, including changes, work stoppages, disputes, implementation problems, defaults, cost overruns, unacceptable performance, and payment problems. S/he evaluates and responds to requests for approval from contractors/recipients and drafts letters for CO/AO signature. 
The A&A Assistant monitors OAA's managed awards, including institutional support contract(s) for ad hoc and/or static A&A services. S/he will support contract(s) and review and accept deliverables, provide technical direction, write contractor performance reports annually, provide feedback on contractor performance, monitor financial performance, and perform accruals on a quarterly basis.
Procurement-related Systems – 20%
The job holder serves as the GLASS (or successor system) subject matter professional, and system point of contact for the mission.
The A&A Assistant is the CPARS (contractor performance assessment reporting system) focal point. S/he monitors the status of Contractor Performance Reports (CPRs) and follows up with COs and CORs, as necessary. S/he reviews CPARS to find past performance reports to support source selection processes as requested by the CO or A&A Specialist.
The A&A Assistant serves as the mission's point of contact (POC) for the Agency A&A Plan. S/he will review the plan monthly and compare it with OAA's mission procurement plan to ensure the plans are in alignment. S/he coordinates and follows up with OAA and requires office staff to respond to business forecast questions posted quarterly from USAID/Washington.
Pre-award Phase Acquisition Support – 10%
The A&A Assistant is responsible for managing the planning, selection, and negotiation process for general procurement and Simplified Acquisition Purchases (SAP) as the negotiator.
The job holder participates on pre-award survey teams for US and non-US organizations to review the apparently successful applicant's procurement systems. 
OAA Administrative Support and File Management Duties – 10%
Transmits instructions on behalf of the Supervisory Contracting Officer to staff members, follows up with staff members to ensure that commitments are met, and keeps the S/CO informed of current plans and activities. Serves as the Timekeeper for the Office of Acquisition and Assistance (OAA) staff, processes bi-weekly Time and Attendance (T&A) in WebTA system. 
Qualifications and Evaluations
Requirements:
PHYSICAL DEMANDS: The work requested does not involve undue physical demands.
Education Requirements:
A minimum of College/university studies in Business Administration, Office Management, Procurement, or related field is required.
Evaluations:
Knowledge: 10 points
Skills and Abilities: 10 points
Communication and Language skills: 10 points
Interview Performance: 70 points
Applications that do not meet the required minimum qualifications will not be scored. Candidates meeting the required qualifications for the position will be evaluated based on information presented in the application. USAID reserves the right to conduct interviews with the top-ranked short-listed candidates. If the interview is conducted, the interview will be one of the determining factors in the final selection.
Reference checks will be made only for the successful candidate. If a candidate does not wish USAID to contact a current employer for a reference check, this should be stated in the application letter.
USAID IS AN EQUAL OPPORTUNITY EMPLOYER: All qualified candidates will be considered regardless of age, race, color, sex, creed, national origin, lawful political affiliation, non-disqualifying handicap, marital status, sexual orientation, affiliation with an employee organization, or other non-merit factors. Management may consider the following when determining successful candidacy: nepotism, conflicts of interest, budget, and residency status.
Qualifications:
Prior Work Experience: Minimum of three years of progressively responsible experience in a contract or grant management environment is required.
Job Knowledge: Thorough knowledge of Federal and United States Government (USG) acquisition/assistance regulations and policies is required. General knowledge of USG programming policies and procedures and of agency programs and objectives is required. Knowledge of market research techniques and local market conditions is required. Knowledge of administrative closeout procedures is required.
Skills and Abilities: Research and analytical skills and the ability to process and organize large amounts of detailed information; sound judgment and decision-making abilities is required.
The ability to research, interpret and apply governing contracting regulations, procedures, and policies to individual acquisition and assistance awards is required. The ability to work effectively as part of a dynamic team, and independently on a wide variety of tasks with minimal supervision is required.
The ability to deal effectively with colleagues and contractor/recipient staff in a cross-cultural working environment, and with the local community is required. The ability to negotiate with potential contractors and recipients; Excellent information technology skills; Ability to write clear, comprehensive documents that capture relevant, pertinent information to support A&A-related recommendations and decisions; Project management skills; Tact and business acumen are required.
Language Proficiency: Level IV (fluent) English Language and level IV (fluent) of one Nigerian Local Language, speaking/reading/writing, is required.
Benefits and Other Info
Benefits: Agency Benefits:
As a matter of policy, and as appropriate, a PSC is normally authorized the following benefits and allowances:
BENEFITS:
Health Insurance
Annual Salary Increase (if applicable)
Annual and Sick leave
Annual Bonus
ALLOWANCES (as applicable):
Transportation Allowance
Meal Allowance
Miscellaneous Allowance
Housing Allowance
TAXES
The Mission emphasizes to its employees the fact that they are obliged to observe Nigerian Laws, including those concerning income and related tax obligations.  Payment of such taxes is a matter between the individual employee and the Nigerian Government. In the absence of a specific international agreement, the U.S. Government will not withhold local taxes from an employee's salary.
How to Apply
Eligible applicants are required to complete this on-line application process and submit any applicable required documents by 11:59 p.m. GMT on the closing date of this announcement. 
Visit the official link to apply
Please note that all required documents must be received by the closing date online, and that we will determine your eligibility and qualifications based solely on the material received by the closing date. Required Documents:
Current Resume
Cover Letter
Relevant Certificates
University Transcript
University Degree Certificate
List of References
Next Steps:
After the closing date for receipt of applications, all applications will initially be screened for conformity with minimum requirements and a shortlist of applicants developed. Applications from candidates which do not meet the required selection criteria will not be considered.
A committee will be convened to review the shortlisted applications and evaluate them in accordance with the evaluation criteria as stated above. Only shortlisted applicants will be contacted. No response will be sent to unsuccessful applicants.