Apply for Fleet Officer at ICS Outsourcing Limited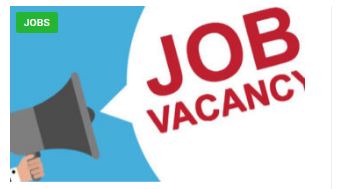 Use the Search Button below for more details.
ICS Outsourcing is Nigeria's leading Outsourcing provider incorporated in August 1994. We offer a comprehensive range of outsourcing services ranging from People Outsourcing to Sales BPO. We provide bespoke Business Support Solutions to all kinds and sizes of business.
TRENDING NOW
We are recruiting to fill the position below:

Job Title: Fleet Officer

Location: Obanikoro, Lagos
Employment Type: Full-time
Job Objective
Manage the company's fleet and coordinate drivers, ensure that all teams have full complement of drivers at all times.
Responsible for the overall accounting and planning, coordinating and managing the fleet including related general administration.
Ensure the implementation of the company fleet management and pool car usage.
Responsibilities
Ensure there is job order raised and signed off before any vehicles are sent to the garage for routine maintenance or accidental repair.
Ensure the security of all the vehicles of the company including but not limited to arranging tracking for all the cars within the fleet, engraving all their parts, etc.
Monitor and ensure the routine and need-based maintenance of the vehicles in conjunction with the head driver.
Support Admin Office in jointly supervising and coordinating work of mechanics and auto repair shop.
Relate with the vehicles documentation desk to ensure that all the vehicles particulars (e.g. registration, insurance) are complete.
Track and analyze the vehicle-wise cost of fuelling, maintenance, and other recurring expenses pertaining to running of the fleet.
Supervise the maintenance of all company vehicles, including the branch offices and welcome centers.
Check that invoices received are accurate, and is in line with job order and within budget.
Pro-actively monitor the company's fleet monitoring tracker for any inconsistencies with the vehicle's movements outside the prohibited working hours.
Send weekly report to Head of Department on the health of the fleets and other related issues arising from the fleet monitoring system.
Raise payment memos for services provided by external contractors.
Ensure and implement fleet management and pool cars usage policies and procedures.
Any other duties as directed by the Unit Head.
Qualifications
University Degree / HND in any discipline.
Must have a minimum of 2 years similar work experience.
Must have excellent negotiating skills.
Must have excellent communication and people skills.
Must have relationship management skills.
Salary
N80,000 – N120,000 monthly
Application Closing Date
31st December, 2021.
How to Apply
Interested and qualified candidates should send their CV to: moyekan@icsoutsourcing.com using the Job Title as the subject of the mail.
Or
Click here to apply online