Nigerian Army 81rri Recruitment Screening Date,Centres, Requirement 2021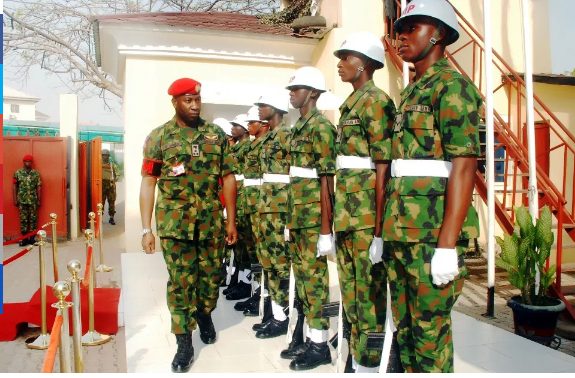 Use the Search Button below for more details.
Nigeria Army 81rri Recuritment Screening – Here the Nigeria Army 81 Regular Recuritment Intake Screening dates and centre.
>>Attention: Always visit or Bookmark this site for Recruitment, Job and Update
TRENDING NOW
This is to inform the general public and those who applied for the Nigerian Army 81rri Recruitment Exercise that the screening date and centres has been released.
Nigerian Army 81rri Recruitment Screening Date
After checking your name, get ready for screening exercise. There will be NO Computer Based Test to be conducted on candidates, No special centre for recruitment also There will be no Zonal Screening Exercise.
The Nigerian Army 81th Regular Recruits Intake (RRI) screening for tradesmen/women and non-tradesmen/women pre-screening will commence on 12 to 24 July, 2021.
Candidates are to report to their respective State Recruitment Centres not later than 12 July 2021.
From the information we have gathered so far, The screening exercise is scheduled to commence from 12 – 24 July 2021 in all the 36 states and Federal Capital Territory Abuja below.
Abia State
Adamawa State
Akwa Ibom State
Anambra State
Bauchi State
Bayelsa State
Benue State
Borno State
Cross River
Delta State
Ebonyi State
Edo State
Ekiti State
Enugu State
FCT (Federal Capital Territory)
Gombe State
Imo State
Jigawa State
Kaduna State
Kano State
Katsina State
Kebbi State
Kogi State
Kwara State
Lagos State
Minna State
Nassarawa State
Niger State
Ogun State
Ondo State
Osun State
Oyo State
Plateau State
Rivers State
Sokoto State
Taraba State
Yobe State
Zamfara State
Nigerian Army 81rri Recruitment Screening Requirement
a. Original copies of WASCE/GCE/NECO/NABTEB Certificate in a file jacket.
b. Trade Test/City Guild Certificate for Tradesmen/Women.
b. Trade Test/City Guild Certificate for Tradesmen/Women.
c. Printed Bank Verification Number (BVN) certificate authenticated by a bank.
d. Valid birth certificate as endorsed by the National Population Commission, hospital, Local Government Council of birth or valid age declaration.
e. Valid certificate of state of origin.
f. WASCE/ GCE/NECO/NABTEB online scratch card.
g. Completed copies of the print outs from the portal including guarantor forms.
h. 2 pairs each of plain white T shirts and blue shorts.
i. A pair each of white canvass and white socks.
Candidates are to note that any alteration on their documents will render the documents invalid and eventually lead to disqualification.
The use of electronic, mobile and recording devices will not be allowed throughout the duration of the exercise.
A high standard of discipline is expected from all candidates. Candidates who violate any instructions during the State Recruitment Screening Exercise would be disqualified.
Nigerian Army 81rri Recruitment Pre-Screening Examination Centers
Serial
State
Exam Centre
Location
1
Abia
Ibeku High School
Umuahia
2
Adamawa
Command Secondary School
Gibson Jallo Cantonment, 23 Bde, Yola
3
Akwa Ibom
Christ the King College
Uyo
4
Anambra
Igwebuike Grammar School
Awka
5
Bauchi
Government Day Secondary School
Shadawanka Barracks, Bauchi
6
Bayelsa
Bishop Dimi Grammar School
Yenegoa
7
Benue 1
Command Day Secondary School
NASME, Makurdi
8
Benue 2
72 SF BN
NASME, Makurdi
9
Borno
Command Day Secondary School
Maimalari Cantonment, 21 Bde, Maiduguri
10
Cross River 1
Command Children School
13 Bde, Calabar
11
Cross River 2
Godwin Alli Cantonment
13 Bde, Ogoja
12
Delta
West End Mixed Secondary School
4 Bde, Asaba
13
Ebonyi
Command Children School
Abakaliki
14
Edo 1
Army Children School Isior Barracks
NASST, Benin City
15
Edo 2
NASEME Nichoho Barracks
NASME, Auchi
16
Ekiti
Christ School
Ado Ekiti
17
Enugu
Command Day Secondary School
Abakpa Barracks, Enugu
18
FCT 1
Command Day Secondary School
Lungi Barracks, Abuja
19
FCT 2
20
Gombe
Government Secondary School Gombe
301 (GS) Arty Regt
21
Imo
Command Children School
Obinze Barracks, Owerri
22
Jigawa
Jigawa State Polytechnic
Dutse
23
Kaduna 1
Command Children School
Ribadu Cantonment, Kaduna
24
Kaduna 2
Command Children School
Dantunku, Waff Road, Kaduna
25
Kaduna 3
Nigerian Army Sch of Military Police
Basawa Barrack, Zaria
26
Kano
Command Children School
Bukavu Barracks, 3 Bde, Kano
27
Katsina
Natsinta Day Secondary School
35 Bn, Katsina
28
Kebbi
Nagari College
Birnin Kebbi
29
Kogi 1
Command Children School
Maigumeri Barracks, HQ CAR, Lokoja
30
Kogi 2
Kogi State University
Ayangba
31
Kwara
Command Children School
Sobi Barracks, Ilorin
32
Lagos 1
Command Day Secondary School
Ikeja Cantonment, Lagos
33
Lagos 2
Ojo Cantonment
Ojo, Lagos
34
Nassarawa
Government Secondary School
Lafia
35
Niger
Command Children School
31 FAB, Minna
36
Ogun
Army Children School
Alamala Barracks, Abeokuta
37
Ondo
Army Children School
Owena Barracks, Akure
38
Osun
Osogbo Grammar School
Osogbo
39
Oyo
Command Day Seconday School
Ibadan
40
Plateau
Command Children School
Maxwell Khobe Cantonment, Jos
41
Rivers
Command Children School
Isaac Boro Barracks, 2 Bde, Port Harcourt
42
Sokoto
Command Children School
Giginya Barracks, 1 Bde, Sokoto
43
Taraba
Government Teachers College
Jalingo
44
Yobe
Government Day Secondary School
Damaturu
45
Zamfara
Gusau Secondary School Gusau
1 BAD, Gusau
Have any question about Nigerian Army 81RRI Screening and List 2021, let us know.