Open Heaven 13th April 2021 RCCG Daily Devotional (Praise As A Weapon Of Spiritual Warfare)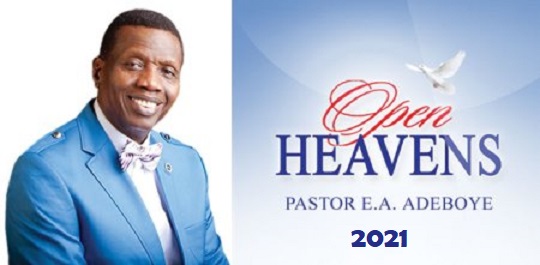 Open Heaven 13th is an RCCG Daily devotional manual that is written to ingest into the heart of the Christians. Today's daily devotional is talking about the topic "Praise As A Weapon Of Spiritual Warfare".
Open Heaven 13th April 2021 RCCG Daily Devotional (Praise As A Weapon Of Spiritual Warfare)
OPEN HEAVENS DAILY DEVOTIONAL.
DATE: TUESDAY 13TH APRIL, 2021.
THEME: PRAISE AS A WEAPON OF SPIRITUAL WARFARE.
MEMORISE:
But thou art holy, O thou that inhabitest the praises of Israel.
Psalm 22:3
READ:

Acts 16:25-26
25 And at midnight Paul and Silas prayed, and sang praises unto God: and the prisoners heard them.

26 And suddenly there was a great earthquake, so that the foundations of the prison were shaken: and immediately all the doors were opened, and every one's bands were loosed.
Open Heaven 13th April 2021 RCCG Daily Devotional (Praise As A Weapon Of Spiritual Warfare)
MESSAGE:
It is a good thing to give thanks to the Lord (Psalm 92:1).
According to Psalm 100:4, praise ushers us to God's presence, and as you may already know, in the presence of the Lord is fullness of joy (Psalm 16:11). Psalm 22:3 also says God inhabits the praises of His people. It is impossible to remain the same after being in presence of God.
This is why the devil does not like people praising God.
The Bible speaks of many weapons of spiritual warfare, however the most effective of them all is praises. The Lord revealed to me years ago that when you praise Him, you are submitting to God and asking Him to fight the battle on our behalf.
In 2 Chronicles 20:15-25, three great kings had formed an alliance against Jehoshaphat. By the leading of the Spirit of God however, he realized that he could only win the battle by praising God. Thus, he organized a mighty orchestra to praise the Lord.
As the singers were praising, the Lord took over the battle and fought on behalf of King Jehoshaphat. His enemies destroyed one another and the only thing he had to do was collect the bounty. The Lord will fight on your behalf, you will possess the gates of your enemies and you will know peace in Jesus' name.
Psalm 67:1-7 explains what could happen when people praise the Lord. It says the earth would yield her increase and God shall bless His people. It also says that when people see the magnitude of God's blessings on those who praise Him, the whole earth would fear Him.
May the Good Lord give you the kind of blessing that will cause people to fear your God, in the mighty name of Jesus.
If you really want to experience increase, you must praise the Lord vigorously.
A couple had been barren for twenty-two years until God led their pastor to ask them to carry out non-stop praise for twenty-four hours every day.
Within three months of playing praise songs round the clock, the wife took in and an end came to decades of waiting. Praise was King David's principal weapon; no wonder he said his heart was fixed on praising the Lord all the time (Psalm 34: 1).
If your praise would be effective however, you must be sure to live righteously; God would never accept the praise of sinners.
Open Heaven 13th April 2021 RCCG Daily Devotional (Praise As A Weapon Of Spiritual Warfare)
ACTION POINT:
Set time apart to give God heartfelt Praise today and cultivate the habit of continuous worship of God.
BIBLE IN ONE YEAR: 2 Corinthians 5-8.
AUTHOR: PASTOR E. A. ADEBOYE.
HYMN 20: PRAISE TO THE LORD THE ALMIGHTY.
Praise to the Lord, the Almighty, the King of creation!
O my soul, praise him, for he is thy health and salvation!
Join the great throng,
Psaltery, organ and song,
Sounding in glad adoration!
Praise to the Lord! Over all things he gloriously reigneth.
Borne as on eagle wings, safely his Saints he sustaineth.
Hast thou not seen
How all thou needest hath been
Granted in what he ordaineth?
Praise to the Lord, who doth prosper thy way and defend thee.
Surely his goodness and mercy shall ever attend thee.
Ponder anew
What the Almighty can do,
Who with his love doth befriend thee.
Praise to the Lord! Oh, let all that is in me adore him!
All that hath breath, join with Abraham's seed to adore him!
Let the "amen"
Sum all our praises again,
Now as we worship before him.