How to Register Account on eNaira Speed Wallet for iOS Users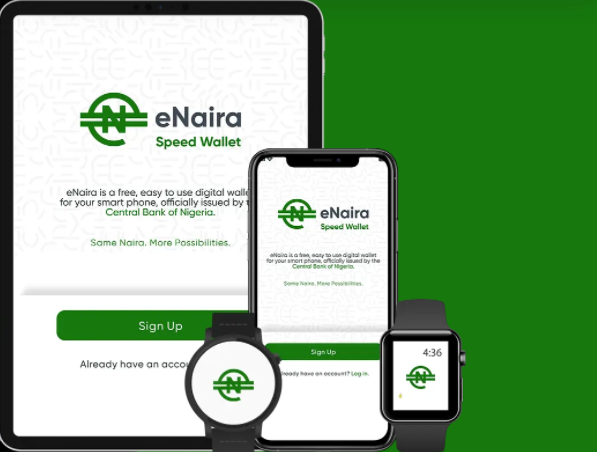 The long-awaited eNaira Mobile Wallet is now finally launched and available on the Google Playstore and iOS marketplace. The content below will give you a highlight on how to register an account on eNaira Wallet for iOs Users.
The only official website of eNaira is https://enaira.ng
TRENDING NOW
How to Register eNaira Mobile Speed Wallet on Apple iOS Phone
From the Home screen tap "App store". If the eNaira Speed Wallet app isn't available on your Home screen. swipe left to access the App Library.
Firstly, to install apps, you must sign in with your Apple ID to browse the App Store. Then, tap Apps
To search I apps by name, tap Search (at the bottom) then type 'eNaira Speed Wallet app.
When the app appears, tap the app. Tap GET. then tap INSTALL
There's no charge for downloading the eNaira Speed Wallet app.
If you have a compatible iPhone with Face ID enabled, double-tap the Side button then look at the screen to authenticate.
If prompted, sign in to the App Store to complete the install.
On successful download, Launch the eNaira Speed Wallet Click on "Signup" to commence the onboarding process.
Select your Relationship Bank/eNaira Partner
Enter your Mobile Number and Create Password.
Enter the following Personal Details
First Name
Surname
Date (Birth)
State of Origin
Account Number tied to your Relationship Bank/eNaira partner
On successful validation of the above details in (7), a wallet activation mail is sent to the email address tied to your BVN Go to the registered mailbox and confirm receipt of email Click on "Activate wallet" to confirm your email and activate your speed eNaira Wallet.
Enter your Username (email address tied to your BVN) and Password (as created in 7) to log in to the eNaira Speed Wallet.
To fund the eNaira Speed Wallet, log in to your Bank Mobile/Internet Banking platform, and initiate the transfer.
Frequently Asked Questions
Questions: Please I cant create my wallet it showing me too many attempts with BVN number

Answer: It is important to verify personal details on the BVN database before attempting to create the eNaira wallet. The system will unlock you after 30 Minutes, but the correct information must be provided before the wallet is successfully created.
Questions: That means we have to go to our BVN bank and update our BVN by adding an email address to our BVN
Answer: Yes, that is the necessary step you have to take to complete your eNaira Speed Wallet sign-up process.
Questions: I tried to register but the system is accepting only first and last names and I have three names, I'm confused, what should I suppose to do?
Answer: You should enter your middle and last name in the "Last Name" space provided
Questions:
It is asking for an email address when signing up and no space was provided for that.
Please fix it.
Answer: kindly visit your bank to update the email associated with your BVN, or better yet, try logging in with the BVN associated with your email if you have one already.
Question: My registration is successful but up till now I have not received the email confirmation all my details are correct… please work on the email.
Answer: kindly verify that the email used is the email that is linked to your BVN. Please contact your bank for verification.
Question: I've been trying to register since morning but the app is saying "code error try again later.
Answer: This simply means you should try after a few minutes.
Follow the Link Below to learn how to Register an Account on Android Phone
Register an Account for Android Phones